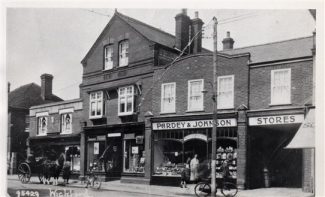 The Post Office
Early postal services were provided by boys or men on horseback. They rode for about 20 miles, which was the distance that a horse could go at speed before a change was needed. Each stretch was known as a 'post'. Riders protected themselves with cutlasses and pistols from highwaymen, such as Dick Turpin, who was active in Essex. A faster and more secure system of horse-drawn mail coaches was developed and by 1791 mail was sent by mail coach to Brentwood from London three times a week. George Poulton, Postmaster of Rochford (annual salary £37 per annum), would collect and distribute this on Mondays, Wednesdays and Fridays via his 18 mile ride which included Wickford. The charge was half a penny for each newspaper or letter delivered and one penny for each collected.
In 1832 Wickford became a post town and letters could be distributed by a sub-postmaster. Moses Miller, a grocer, was the local postmaster. Letters were dispatched via Billericay at 6.45 p.m. Wickford's obliterator number was 404; between 1887 and 1892 it was changed to J48. With the advent of the railway in 1845 the mail coach for south east Essex met the Eastern Counties London to Norwich train at Ingatestone. By 1863 grocer Samuel Carter had taken over as Wickford's postmaster.
In the 1870s John Salmon, Baker and shopkeeper, received letters from Chelmsford via Battlesbridge at 6.55 a.m. and dispatched them at 7.00 p.m. By 1878, according to Kelly's Directory, letters came through Rayleigh and arrived at 6.55 a.m. and 1.00 a.m.  From 1873 the nearest telegraph office was in Rayleigh.
After 1880 Battlesbridge was on the main mail coach route between Southend, Rochford and Chelmsford. By the end of the century, the postmaster, Mr George English after 1886, another baker and shopkeeper, had to deal with three collections and three deliveries every weekday and one of each on Sundays. His shop was on the Broadway. From 1890 to 1924 the local postman was William Bearman . The Post office became an agency for Money Orders and the Savings Bank and Wickford became a telegraph office in its own right.
Kelly's Directory for 1908 reveals that there was a wall letter box in the London Road. As of 1910 there was a pillar box outside the school in the Southend Road. Arthur Belsham took over as Postmaster in the twenties upon Mr English's retirement. After 1913 Wickford had its own telephone exchange and in 1933 calls could be made from a sub-post office in Shotgate.
A purpose built post office on the Southend Road took over from Pardey and Johnson's in the Broadway in 1958. It was constructed and newly furnished only to be inundated in the 1958 floods, before its initial opening. Picture here .
The Post Office is now housed in the Willowdale Centre, off the High Street.