William Bearman
Runwell Postman, 1866-1924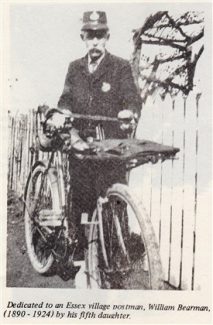 This personal history was originally written by Mrs B M Ballsdon, the fifth daughter of Mr and Mrs William Bearman and is published with the family's permission.
My father was a well-known person, much liked for 40 years by all he came in contact with, both the rich and the poor. He and my mother cared for everyone around and were always ready to lend a hand in the hour of need. My father left school at 14 to work in the greenhouses of a seedsman's shop in the town. He was not very keen working under glass and started getting itchy feet for open air work. He applied to the Post Office to become a telegraph boy, a job that suited him very well. When he was old enough he was given the chance to become a regular postman and it was this that brought romance into his life as he met a young girl at Highlands Park, just outside Chelmsford, where her father was the head gamekeeper. Eventually they wished to marry and he was offered a post at the little village of Runwell where a semi-detached house was vacant in the village. So they were married at St Mary's Church,                                                 Chelmsford, by the then Rev J D Nairne on July 3rd, 1890.
First home
They felt very lucky to have a home to go straight too. It was a two up, two down, with a brick-built wash house and loo 'down the garden'. My father soon built two sheds. One was for cycles, which was the way most people got from A to B in those days. They were delighted when their first daughter was born on April 9 1891 and they used the other shed for the pram. However, it was only the beginning of their family as along came nine more children: five girls, the boys and one still-born. Mother was very grieved to lose the baby.
Routine
A post man's life was very different in those days. In the first few years the Royal Mail travelled by coach and horses from Southend to Chelmsford and the mail was given to post man at different points on the route. My father's position was at the Turnpike and, no matter what the weather he had to be there at six o'clock in the morning to receive it. He then took the mail to the post office in Battlesbridge, another old world village with a railway station where the trains came from Wickford to Burnham-on-sea. The river Crouch with all the flour mills besides it ran through the village.
When the mail was sorted, my father was given his batch and returned to the main post office at Wickford, delivering on his way. At Wickford, the mail was sorted again and more deliveries were picked up.
All this took quite a long time and it was about nine o'clock when my father set on his journey, in another direction to North Benfleet, delivering all the way. They had to stay there until about 3 o'clock. The Post Office knew the proceedings of the day so they bought a small piece of land on the side of the road and had a nice sized shed erected on it. My father grew sweet peas all around it in the summer and painted the railings and gate and very gay it looked. The gate and shed were locked when he was not there. He made it very comfy by making a settee to rest on and an armchair and stools when we visited as we often cycled out there in the summer, There was a stove for warmth in winter and a 'Beatrice' oil stove for heating water etc. Mother supplied him with coverings, utensils and other items. My father's hands were never idle, I am sure, as he made rag rugs for the hut floor which were very warm and gay and were made with bright pieces from mother's rag bag. Many were the quenching cups of tea when we arrived as we were taught to ride a cycle very young.
Gardening
Soon after he arrived there, a rich London gentleman bought a bungalow nearby. My father had long hours to wait about with little to do so he was asked by this gentleman if he would keep the garden tidy and cut the grass. First he got the Postmaster's permission and got his consent so that it helped pass some time away, when the weather permitted, and also gave some pocket money. About 3 pm, my father went to Benfleet Post Office for more letters, etc, and delivered all the way back to Wickford where he called on Dr. Marshall to collect his mail and any medicines for urgent delivery that day, and he returned to the post office.
An Unexpected Delivery
On his way back one day he had another kind of unexpected delivery. Going to a farmhouse off the main road he found the lady of the house in distress. Her baby was on the way and no one was there so my father just had to help her until it arrived. He then immediately went for the District Nurse who was at home. She cycled straight there and everything turned out all right and he got many thanks from everyone.
At Wickford Post Office there was a great deal of work to do so his last call of the day was at 7pm at Runwell Hall, passing his home on the way there. It was 7.30 pm when he finished for the day.
My father carried a whistle which he blew when near houses etc, so people knew he was about. We were all in bed that went to school, when he got home so Sunday was the only day we saw much of him, especially in winter.
Winter
Winter was mostly severe with snow higher than hedges and then floods after. As the years pass me by I always think how hazardous it was for my dear father but he always got through somehow.
Christmas
At Christmas, Father worked until midday delivering parcels, cards, etc, and he had a large trolley on the back of his cycle for them. It was made of basketwork with protective waterproof material. Many the rides we had in it. But he was home for Christmas dinner and what a lovely meal, with three penny pieces in the pudding. The stockings had been hung up overnight and Father Christmas had been as the wine and cake had been eaten when we got down stairs, The rest of the day we were very busy opening the contents and playing with them after attending morning service and learning what Christmas was about, the birth of Jesus.
Boxing Day was for Party time when all were at home and what fun it was with a large tea party and then bon-bons, sweetmeats, music and presents for all beneath the tree which we had all helped dress Christmas Eve. So lovely to have us all together, I am sure, as I feel the same when my own are.
Easter
Easter seemed to start off with mother up very early for Good Friday bakery. No one wanted to lay abed with the lovely smell of hot cross buns and rolls and we all breakfasted in the warm kitchen. The cooking was done in the oven by an open fireplace which kept all warm. My father finished work at dinner time that day, having only one delivery special.
Summer
He deserved a holiday in the summer and one day it was very special. We were all taken to Southend. It was to have our photo taken together as a group of eleven. I was about four at the time and mother made all our dresses that we wore as well as her own. On other holidays Father hired, a wagonette for days to visit relatives in other villages. My mother's parents lived in a tied cottage provided by my grandfather's employers when he retired to Galleywood and so we were taken for a holiday to them. Only the young ones went and walked there and back with Mother pushing the old fashioned pram with bars underneath. There was a wood at the bottom of the garden which was lovely to play in and water had to be fetched from a well at the bottom of a steep hill in a neighbour's garden. The eldest boy used halter to fetch two buckets and the rest carried one and I expect lost a drop on the way back. The bars on the pram very useful on the way back home, we came across a full skip of tomatoes with the cover still on so they were put underneath. We asked everyone we saw but could not find an owner. There was a large oak tree opposite our house so a large notice was put on it but none claimed the tomatoes so they were used up by neighbours or anyone else, before going bad.
The Great War
My father, besides doing his post office work, was expected to have contact with everyone around you name it, he did it. There were no phones in ordinary houses and when messages arrived or medicine was needed he delivered them when possible. The Great War made a great difference to my father's work in many ways. His saddest times when he had to deliver those telegrams to bereaved wives and mothers and he never knew when he might get one himself. His two own eldest sons were sent to the front. The eldest was wounded three times and sent home each time but survived until he was eighty. The younger was gassed badly and never went back and always suffered with his chest until his demise at 59 years. Two brothers-in-law went overseas and were injured and had trench foot but were bought home and recovered. My father's youngest brother had done 21 years in the Royal Navy had to stay on instead of retiring and lost his life on the 'Abourkir', one of three ships sunk. So it was a sad time for rich and poor and everyone was glad when it ended.
Uniform
Post men of those days were very smart. The uniform was a thick navy blue serge jacket in winter, with a light one for summer. Breeches and putties went down to the strong leather boots. The hat was deep black and front with the post office badge and red stripes went through every garment. Mother made his shirts: for winter half lined with flannelette and summer ones without.
Each person was issued with Mackintosh cape and leggings for bad weather. At busy times, such as Christmas he had a trolley to pull on the back of the cycle which was made of basketwork with protective material. This was to carry all the parcels. When empty we enjoyed a little ride in it.
Retirement
My father was generous man and had lots of thoughts of his retirement after 40 years service to the post office and how best to spend his savings to make life a little easier for Mother after bringing up the family with few amenities. He found a large plot of land for sale nearer Wickford but still in Runwell. It was on the main road with a side road and suited him so bought it and put a fence all round and a gate at the front and side. He put up a large shed to put all the tools in and then waited to see what kind of house they would like. Plans were drawn up by Mr. Carter, the builder, and they were for a double fronted house with three bedrooms, a sitting room, dining room and bathroom etc. The front had grass and flowers and the back fruit trees and vegetables. (Until the council took the side road which owner had to keep it up) So when all was finished they had got for the first time in their lives an inside bathroom and toilet with all the mains gas and electric and how proud they both were and how pleased it made their family to see them so happy.
Floods
After living there three years the estuary from the River Crouch flooded very badly into their house, and other, and rotted the floor boards. After that disaster the water board decided to have the river dredged each year. The owners of the houses affected paid a 'river rate' each year which was satisfactory.
Bitter blow
Mother, like my father, was looking forward to a more relaxed time to do whatever they wished but, suddenly Father developed bronchitis in the summer of 1924 which caused his death on the fourth of August of that year. To loose such a loving and caring father at the age of 59 years was a bitter blow to us all. He was buried in Runwell Churchyard borne on the 'brier of St Mary's' by his post office colleagues with is devoted family following on foot. My Mother lived at 'Pinehurst', the name of their house until she was 93 years of age and was laid to rest with her devoted husband as she wished to be.