'Father of Wickford' - Dr. Frew
An extract from 'Wickford Life', 1998.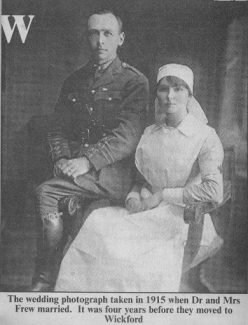 In 1998 the five doctor partnership that had been at Franklins Way since 1970 moved to a purpose-built surgery on the Wick.  The new building was called after a doctor who had founded the practice in 1919 – Dr. Robert Frew.  He had achieved a lifetime of good work, both medical and social, which moved the town sufficiently to make this permanent memorial to him – the Robert Frew Medical Centre.
Robert Frew was born in Galston, Ayrshire in 1886.  Awarded a Carnegie grant to study, he left school in 1902 when he became a pupil with a civil engineering firm.  Deciding that engineering would be too desk-bound as a career, the young Robert then paid his own way through medical training, and graduated in April 1914, gaining the Arnott prize in physics in 1911, and a medal for clinical surgery in 1914.  He then served in France with the Royal Army Medical Corps during the First World War. He saw service in a casualty clearing station as an anaesthetist using chloroform and would still tell of the terrible conditions that he worked in years later.
It was there that he met his wife Mary, a nurse, marrying in November 1915.
Although offered the chance to work as an anaesthetist in a London hospital, Dr. Frew chose to become a G.P., buying the Wickford practice from Dr. Mathieson.  He started work in a small shed behind Lynton House, the upper windows of which are still visable above The Halifax in the High Street.  In those days the surgery was lit with paraffin lamps, the glass of which had to be cleaned each morning.
Two years later he moved to Ladybrow, the surgery again being behind the house.  It was there that Dr. Robert Frew practised for the rest of his working life, later joined by his two sons, Thomas and James, and later still in 1958 by Dr. Ronald Anderson.
The life of a village G.P. was very different back in the beginning of the twentieth century.  Antibiotics were yet to be generally available and all births were at home.  Antenatal care was non-existent.  But these were exciting years in the history of medicine.  One of the few benefits of the two wars was the hugh leaps forward in clinical and surgical methods, and the use of drugs.  The immunisation programs protecting against tuberculosis, diphtheria and whooping cough were introduced, and the use of antibiotics came into force.
Dr. Frew was well ensconced in Wickford once the 2nd World War broke out.  His assistant was called up, and the doctor was left running the surgery alone.  In those days all prescriptions had to be made up manually, and although already in his fifties, he would often be up until three in the morning making up prescriptions!  As medical officer he trained the local Red Cross brigade, of which Mrs. Frew was Commandant.  The brigade had to be on call 24 hours a day to assist casualties on occasions such as when the Pratt family of Swan Lane were killed in a bombing raid.
He was a real family G.P.  He had time for people and is remembered with great affection by patients and those who worked with him alike.   Many older people in the town remember the kindness the doctor showed to people in impoverished situations, and often he would not take his fee, or would reduce it.  As commandant of the Red Cross Mrs. Frew was able to give practical help to families that her husband was best able to judge needed it.  Mrs. Frew also set up the first baby clinics in the town with volunteer helpers, before the days of National Health.
At the height of his working life Dr. Frew had patients as far away as Bicknacre and West Fambridge.  He had two branch surgeries in Woodham, one in a pub and the other in the front room belonging to a Mrs. Johnson, the station porter's wife.
In the early days Dr. Frew would travel to his further flung patients by motor bike, and once took a prescription to Battlesbridge by foot, walking along the river.
Always busy, he was elected to Wickford Parish Council.  He was a manager of Wickford county school, president of the Wickford branch of the British Legion, honorary life member of the British Red Cross and a member of the Runwell Hospital management committee.  He was Past Master of the Wickford masonic lodge in 1924, and secretary for some years.  He was an enthusiastic and respected Mason.
Dr. Robert Frew died in 1969, aged 83.
As the memorial plaque in the door-way of the Robert Frew medical centre says, 'Physician and friend to this community'.
See more Here.
In memory of Dr. Robert Frew.