Richard Bartlett, Brigadier
from the Wickford Times, April 7 1950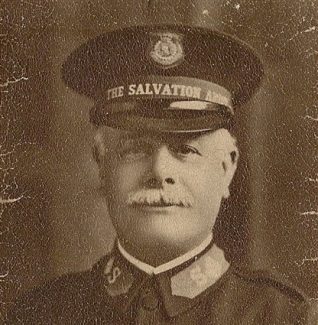 Brigadier Bartlett was born in a cottage opposite the Congregational Cemetery, Wickford, on June 1 1859, and received his first schooling nearby, and later at Rayleigh, travelling to and fro on horseback.
Leaving school, he became a draper's assistant and joined the Salvation Army at Regent Hall, Oxford Street in 1884. He was first commissioned a Lieutenant in 1885 and when he reached the rank of Ensign he married, having first met his wife when she was a Salvationist in the Camberwell Corps. The marriage took place on April 8 1890 at Wakefield Register Office, and later a marriage ceremony in accordance with Salvation Army custom took place in Halifax.
Throughout his career Brigadier Bartlett has been fully supported by his wife, and the achievements of his rank and his splendid health he attributes largely to his wife's care and interest.
During his career he has managed homes at Aldershot, Bulford, and Portsmouth and has conducted boys to Canada after they had been trained at Hadleigh Colony.
After the First World War he took a party on a visit to war graves, including that of their only son, killed in France. His last appointment was that of Young People's Campaigner and Territorial Scout Chaplain.
Mr Bartlett retired in June 1923, after 38 years' service, 31 of which were spent among young people, in work at Aldershot, Brighton, Belfast, Manchester, Glasgow, Portsmouth and Isle of Wight.
On his retirement he moved to Runwell where he became a parish councillor and manager of Wickford School. His efforts on behalf of Wickford Fete Association are known to thousands, and  made him and his dog "Ben", later succeeded by "Raff", well-known figures, and between them collected £350.00.  For these efforts they gained a medal of appreciation.
Mr Bartlett's memories of Wickford include that of the village pump in the High Street and the time when the Castle Hotel was the only public house in the village. It was there that horses were changed on their way to and from London to Southend. The "drinkings" were at that time at the rear of Franklin's butcher shop, and Wickford Congregational Church had plank pews and a gallery, and stood on the site of the present Congregational Cemetery
From the Wickford Times April 7 1950