John Bolton (31st August 1934 - 28th July 2014)
A resident of Wickford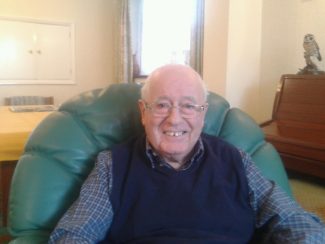 John Bolton was born and raised in Stratford on the NE side of the railway and industrial area that became the site of the 2012 Olympics.
John and Eileen were born in the same road in Stratford and were married in 1956 and raised three children.
John left Stratford Grammer School in 1950 and started an apprenticeship in mechanical engineering with Young, Austin and Young.  His career spanned 49 years until retirement in 1997.  His career advances lead to directorships in 1977 and one of his claims to fame is he was the longest serving board member.   John was involved with many famous landmark buildings during his career, including Liverpool Metropolitan Cathedral and the 'Gherkin' in London.
John and Eileen joined Christ Church when they moved to Wickford in 1959.  Over the years John served as a junior church teacher, group Boy Scout leader, elder and church treasurer.  He played a major role during construction of the current church building.  He also was the first Parent Governor at Beauchamps School.
He loved his adopted home town of Wickford and for many years was an active member of Wickford Round Table, Wickford Rotary, Wickford 41 club, Christ Church, St. Lukes Hospice (fundraiser) and talking newspapers for the blind.
A truly valuable resident of Wickford!.