Marion Wilberforce - a resident of Nevendon Manor.
One of the first eight women members of the Air Transport Auxillary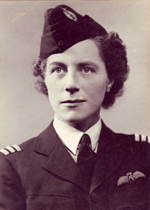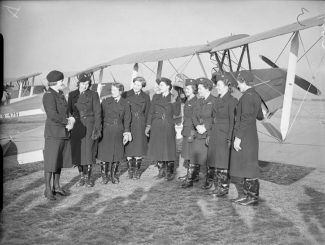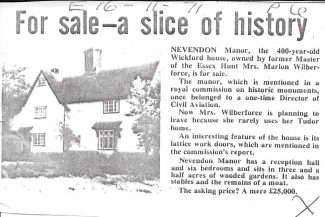 The Air Transport Auxiliary was formed at the beginning of WWII to transport new aircraft from their factories to the airfields in and around the country. Originally founded and run by male pilots who were not fully fit for operational flying, they were often called the Ancient and Tattered Airmen.
By the end of 1939 however, with all the men now wanted for operational flying, women pilots were needed . This was at a time when there were few women who drove, let alone fly. However there were some.
On December 16, 1939, the first group of twelve women pilots were assembled at Whitchurch, and flight-tested in a Gypsy Moth. From this group of twelve, eight were selected and appointed as Second Officers.
One of these eight was Mrs Marion Wilberforce who farmed at Nevendon Manor, Wickford.
She had been born in Aberdeen in 1902 to Anne Ogilvie Forbes and John Ogilvie Forbes, the 9th Laird of Boyndlie. After a number of governesses at home she went to school in Stony Stratford and then to Oxford University to read Agriculture.  Apparently she was an all round sports woman, accomplished exponent of jiu-jitsu and a member of her university's mountaineering club, as well as later to be a daring and skilled pilot.
In 1932 she married Robert Wilberforce and they moved to Nevendon Manor, in Wickford.  She had taken up flying as a hobby, her first plane being a De Havilland Cirrus Moth, and later a Hornet Moth. She used these to transport livestock, including cattle, around Europe, as far as Hungary.
In the beginning of the ATA, this major step for women in the Royal Air Force was not accepted by everyone; on many occasions people were surprised to see throughout the ensuing five years of active duty, attractive, young, and often physically slight, women emerging from the cockpits of huge range of planes from Spitfires to heavy bombers such as Lancasters.
In the ATA she rose to become Deputy Commander of the No. 5 Ferry Pool at Hatfield, and later became Commander of the No. 12 Ferry Pool at Cotsford, one of only two women pool commanders in the whole ATA.
By mid 1941 Marion Wilberforce was flying operational machines including Hurricanes and Spitfires which she piloted as a matter of course. The first Spitfire she flew was donated by the citizens of Grimsby and accordingly called Grimsby II.
During 1942 she mastered the whole gamut of twin engined medium bombers including the Wellington and Mosquito. Two years later she became one of only eleven women pilots trained to fly four engined bombers such as the Lancaster.
She served the full 5 years until the ATA was disbanded after the war.
From 1929 she had taken a keen interest in the work of the Fairbridge charity whose aim was to take orphaned children from overcrowded British cities and find them homes in agricultural communities in the Dominions. In the late 1920s and early 1930s she visited Canada and Australia to look over farm schools there. She continued her involvement in the Fairbridge Farm Schools until late in her life. Having no children herself, she often had Fairbridge children to stay with her for extended periods.
After war service she carried on flying but when she was eighty she decided that the time had come to give it up. In peace time she was best known in aviation as someone who did what she was not meant to do, whether it was skirting the ground at two hundred feet to avoid radar when on a route she shouldn't have been on, or disrupting a NATO exercise.
On her husband's death in 1984 she returned to live with her brother, Malcolm, in the family home at Boyndlie. Now dilapidated with gardens overgrown and the family chapel derelict, they lived happily amid the decay. A stoic in old age and impatient of physical frailties, she refused to wear hearing aids. Her last months were spent in Stratford Park Nursing Home, Stroud, where she died on 17 December 1995. She was cremated at Stroud, but her ashes were interred at Markington Roman Catholic Church, Harrogate, Yorkshire, near the Wilberforce family home.