Guardsman John Cole. (2015, The Bicentennial of the Battle of Waterloo).
A guardsman's tombstone.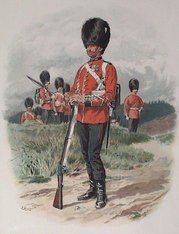 30 year old Guardsman John Cole was a member of the Second Battalion of the Grenadier Guards. In 1815 he was marching towards Waterloo (in present day Belgium). During the Battle he was wounded by a musket ball but carried on until the victory was won. He returned home to Essex but later died in the Parish of North Benfleet, Wickford, in 1836. He bequeathed his medals to the curate of All Saints Church.
The Curate later erected a memorial on the Grave which reads, in part "John Cole, a soldier of the 2nd Battalion of Grenadier Guards, at the celebrated command "Up Guards and at 'em", was wounded by musket but heroically persevered till victory".
It is believed that this is the only grave in the country of a private soldier in the Grenadier Guards who fought at Waterloo.
We would be interested if you have any family connections to John Cole or if  your family history shows any connection to the Battle of Waterloo.