Ken Phillott (1)
A Wartime Commando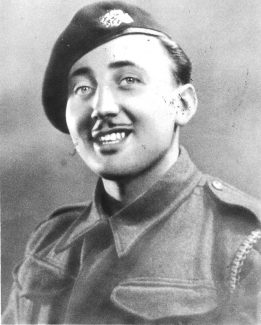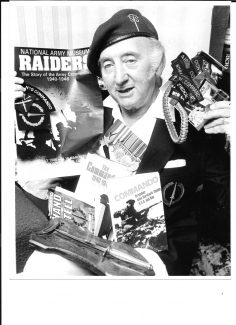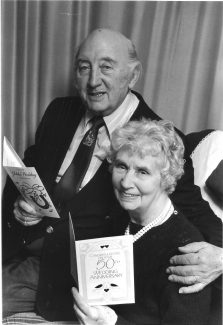 Having been given access to a number of archive photographs from the Echo Newspaper archives, we set our members tasks of putting words to some of the pictures.
Albert William Kenneth Phillott (known as Ken) was born on 13 August 1919, in Dulverton, Somerset. He was 20 years old when WW2 broke out and enlisted in the Gloucestershire Regiment (The Glosters).
In June 1940, immediately after the Battle of France had been lost, and the British Expeditionary Force had been evacuated from Dunkirk, the Prime Minister, Winston Churchill, called for the establishment of a new force to undertake raids into occupied Europe. Drawing on his experiences in South Africa during the Boer War, Churchill named his new force as 'commandos'.
Ken Phillott of the Gloucestershire Regiment was unaware of Churchill's intentions, but in July 1940 he noticed that his battalion orders were inviting soldiers to volunteer for "special duties". Many years later he recalled "This seemed to offer something different, although I had no idea what these Special Duties would be. I informed my Company Commander that I wished to volunteer".
The result was that Ken was transferred to the new unit known as No.4 Commando Training, in Scotland.
In October 1940, the commando units were reorganised and Nos 4 and 7 were combined to make No.3 Special Service Battalion (3SS). This new unit was based in Girvan, in Scotland.
His first action was in 'Operation Claymore', the code name for a commando raid on the Lofoten Islands, in northern Norway. The raid took place on 4 March 1941 and involved No.3 and No.4 Commando. The raid was successful and the German industry, as well as thousands of tons of supplies were destroyed. One unexpected benefit from this raid was the capture of part of an Enigma machine and its code books, which were sent to Bletchley Park.
Further raids were planned and then cancelled, and No.4 Commando did not see action again until 22 April 1942, when it took part in Operation Abercrombie, a raid on the French coastal town of Hardelot.
In August 1942, No.4 was one of three commando units involved in the raid on Dieppe, under the command of Lord Lovat.
In June 1944, No.4 Commando was involved in the Normandy landings, coming ashore on Sword beach and capturing a gun battery, thereby enabling the subsequent landings to take place.
No.4 Commando was disbanded in 1946.
Ken and his wife lived in London in the 1950s. In later years they moved out to Wickford.
He was an active member of the Commando Veterans Association. He was proud of his large collection of military badges associated with the army's Commando units.
For more information.
Bibliography
1. FOWLER, Will. The Last Raid:The Commandos, Channel Islands and Final Nazi Raid. 2016.
2. DUNNING, James. The Fighting Fourth: No.4 Commando at war, 1940-45. 2010