First World War Memorials (1) - 100 years since a crash over Shotgate, March 7th 1918.
Memorials to two airmen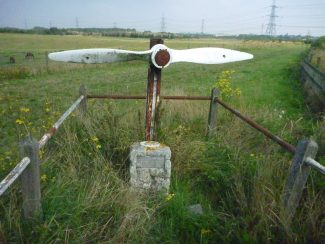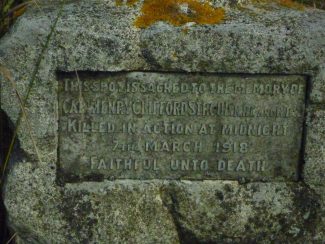 While on a walk from the Wick Country Park a couple of weeks ago we came across a couple of memorials to two airmen who died in the First World War. I remembered seeing one of these from the train between Wickford and Rayleigh many years ago. It took the form of an upright stake with a propeller attached to it, surrounded by a small fence. I had always wondered what it was. Close up, on the walk, I saw that there was a little inscription. It reads "This spot is sacred to the memory of Capt. Henry Clifford Stroud, RFC and RE. Killed in action at midnight 7th March 1918".
I thought I would see what else I could find out about this memorial. It seems that two British airmen were killed when they had been sent up to find a lone German aircraft heading towards London on the night of March 7th 1918. Capt. Stroud was sent from Rochford and the second man, Capt. Alexander Bruce Kynoch, set off from Stow Maries. They collided with one another over Shotgate, probably because of bad weather conditions, and were killed, their planes coming down in a field on Dollyman's Farm. Stroud belonged to the 61st Squadron of the Royal Flying Corps (RFC), formerly the Royal Engineers. Kynoch was a member of the 37th squadron of the RFC, formerly the Duke of Wellington's Regiment.  Stroud was flying SE 5a B679, Kynoch – BE 12 C3208.
Memorials to the two men in the form of large crosses were erected by the landowner, Mr W. W. Wilson, described as a gentleman farmer. The parents of both pilots visited the site and presumably it was they that had the propeller memorial put in place. Kynoch's memorial is a simple stone, with an inscription similar to Stroud's, surrounded, now, by a broken down fence. There have have been a couple of restorations over the years. A letter in Flight magazine (10 March 1961) described the Stroud memorial as 'well kept' and the propeller as 'recently painted'. More recently, in 1994, it was renovated again. It is possible it was moved when the new A130 was built. Kynoch's little fence is now rather broken down.
Capt. Stroud was born in Newcastle upon Tyne, a graduate of Cambridge University and an engineer. He volunteered for foreign service at the start of the war and was badly wounded in 1915. He spent several months in hospital. He joined the RFC in July 1916 and became an expert pilot. Kynoch was born in Essex in 1894 and served in Gallipoli, Egypt and Macedonia before joining the RFC. Stroud was buried in St Andrews Church, Rochford, where there is also a memorial inside the Church. Kynoch was interred in North Finchley, where his family lived.
For more on the memorials see
https://www.warmemorialsonline.org.uk/node/166001
and
https://www.warmemorialsonline.org.uk/node/100938
Photos of Kynoch and Stroud can also be seen here.
More pictures relating to the memorials can be found on Flickr:
http://www.flickr.com/photos/richard64pics/7775066440/