5Regiment Royal Horse Artillery 1940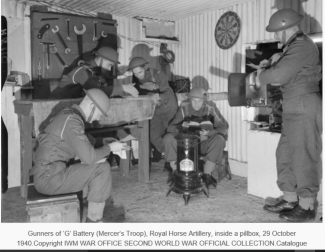 I am researching G Battery (Mercers Troop) 5 Royal Horse Artillery in 1940 after their return from Dunkirk. They manned the anti-tank guns on the GHQ defensive Line on the section that ran from the Thames up the East side of the country from Benfleet up to Saffron Walden. Their War Diaries at the time just make a passing reference to the Benfleet Area which may include Wickford.
Is there any further information of them during this period and would the pill boxes mentioned still exist? Any information would be much appreciated. 
25 June (1940)
G Battery stays in Chelmsford area.
K Battery to Thaxted (Essex)
RHQ to Little Easton (Nr Dunmow)
The Regiment was to be armed with 44 ex Royal Navy 6 pounder anti tank guns 16 of which are immediately available'
The Regiment is tasked with manning 21 priority positions between Saffron Walden and Witham (37 K as the crow flies!)
Clearing fields of fire, building emplacements and setting up road blocks prior to pill boxes being built and then occupy them as they became available. They formed part of the GHQ defence line.
25 June
G Battery HQ to Chelmsford Drill Hall (Little Waltham ?)
A. Troop. Nevendon
B. Troop. Spring Field
13 October
G Battery HQ moves to Radcliffs Writtle
A Troop takes over 4 new pillboxes at Colchester, manning 6 Pdr. A/T guns
HQ section mans pill boxes No.1-2 at Bowers Gifford and Southend by pass at Nevendon
B troop mans 4 remaining guns at Dunmow
C .Troop. Little Waltham.