WW2 Treasures
Recovered Bombs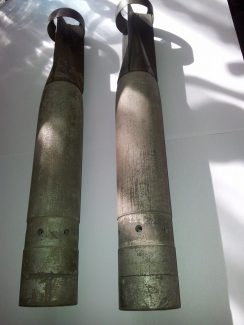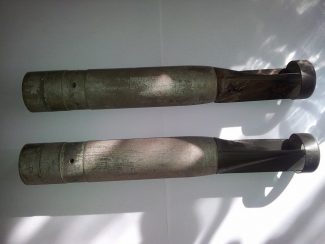 Two items I absolutely treasure.
Recovered at the time are two bombs; the first seen on the left was dropped in a canister, as was the normal practice. The canister would spin when dropped and eject these 18″ bombs in their hundreds. Having a flat head they were designed to penetrate the roof tiles only! where they would ignite in the loft and be well and truly burning before you could get at them. That was their design purpose. Made from magnesium they burnt with an intense white flame and were difficult to put out with water. The accepted method of the day was to smother them with dirt or sand in order to extinguish the flame. The bomb on the left fell at the bottom of the garden at number 22, Sadoreth, my grandfather's bungalow in Guernsey Gardens. A canister landed more or less intact and spat it's contents up the garden. My grandparents came out the following morning to find the entire rockery penetrated with incendiary bombs. This example was retained by my grandfather and used in public displays to the general public. The second bomb on the right is again a 1 kilo German incendiary bomb, but the Germans were wise to the way we could quickly disarm them and they put a sting in or I should say under the tail fin, a small gain approximately 1″ long filled with TNT. the idea was if the bomb managed to burn down to the fin, it would ignite the explosive creating a secondary bomb, the tail fin would together with the steel in the gain effectively become shrapnel thus killing or maiming civilians in the immediate area.
The example on the right was found by my grandfather at Painters Hill, Vange, and is said to be one of the first found in this area. Again it was retained by the Brigade for training purposes for the general public. I would also like to point out that these two bombs have been professionally deactivated and are no threat to the environment or members of the public.