Excavation of World War 2 crashed Dornier Bomber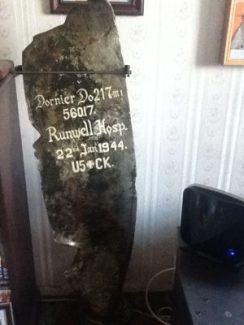 On the 9th October 1976, members of the Essex Aviation Group entered the land behind Runwell Hospital, then owned by a West German National, whose name was Mr. K.U.G Bartelt.  We had obtained permission earlier in the year to excavate the crash site of a twin-engined German Bomber, a Dornier DO217M1, Werks Nummer 56017, U5+CK, formally of 2 KG2 or Kampgeswader 2 Holtzhammer.  The entire crew of four were killed when the aircraft crashed on the night of 21/22 January 1944, between the Power House and workshops at Runwell Hospital, to impact in the field immediately behind the Powerhouse, beside the Incinerator.  The exact location could be seen in a deep depression beside a blackberry bush.
In an earlier visit with colleague Joe Mack, we had located a small label which bore the legend AUF ZUM, roughly translated 'onto' and another which bore the legend DORNIER 217.  We also found a First Class Iron Cross, a bomber pilot's merit wings in Gold, as well as the pilot's badge.  These would have belonged to the pilot, Erich Reiser.
I remember arriving on site very early in the morning and the digger driver was already there waiting to start.  When the other members of our group were present we gave the go ahead to open the site, and as the digger's bucket began to bite into the thick Essex clay there was a group of very excited aviation archaeologists awaiting the first find.  At first a few twisted and tangled pieces of duralium some bearing heavy black paint or dunkel grun (dark green).  If you have ever dug on the site of a German aircraft there is always a distinct pungent smell that's associated with German aircraft.  The digger dug deeper and parts of an MG81 machine gun emerged, a vast selection of items from the aircrafts internals, one of the aircraft's main tyres, a propeller blade, oxygen bottles, an extinguisher, another MG81 Zwilling machine gun, hundreds of 7.92 mm rounds of ammunition as well as cannon shells, complete parachutes, a dingy with survival pouch, a huge amount of flying clothing some of which bore rank insignia, a  wallet complete with contents – Dutch gilders which automatically told us our aircraft had been based in Holland, the navigator's brief case complete with the navigation maps, compasses, dividers, and a complete Daimler Benz DB605 inline engine.  This  really was a fantastic site which yielded some fantastic finds.  When we finished loading our lorry to transport the remains of the Dornier to our museum at Duxford in Cambridge, we were looking at wreckage weighing in the region of six/seven tons.
To many of our members who had travelled from different locations within Essex, this was a fantastic site, but to me and my colleague Alan Jasper, both born and bred in Wickford, this was a magnificent find and was part of our own town's history.  We both began to research this site thoroughly and research is still an on-going task to complete the story.  I have attended many crash sites in and around Essex, but nothing brings more excitement and interest than a local site.  
On closing I would like to say that there were human remains found on site, even though these four young Germans had known graves at Cannock Chase, Staffordshire.  The second human remains were located, digging ceased and both the Police and local Coroner were notified.  The Police and Coroner attended the site and the remains removed to Chelmsford.  We were then allowed to carry on with our excavation with full Police approval, and the human remains accorded the fullest respect we could give them.  My own father witnessed the demise of this aircraft as he saw it caught in a searchlight beam, one engine and wing was engulfed in flames as the aircraft was hit by a radar predicted gun site stationed in the Pitsea area.  
Our group excavated this site in October 1976, but it was also excavated on two other separate occasions by other groups, who found items where we had placed our soil pile, another Daimler Benz DB 605 engine, undercarriage legs and a  complete wheel, more maps and another three propeller blades, one of which you can see in the picture.