Christ Church, the Tapestry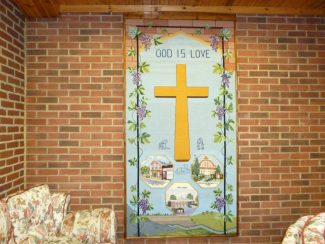 Work on Doris Westgarth's dream of The Christ Church Tapestry, commenced in April 1996 after many a setback.
The overall intention was 'to depict the growth, the worship and the life of Christ Church'.
At the top of the tapestry is a brick arch: this is intended to echo the red brick walls of the sanctuary.
Around the arch and down the sides are grapes and vines: 'Jesus said I am the vine'.  Words at the top say 'God is Love'.  In the centre is an empty cross.  Gold rays are coming from the cross to show Christ's light in the life of the church.  Around the cross are figures taken from the Good News Bible with local scenes at the foot.  The river and two adjoining fields are shown: the school field with the willows, which were blown down and broken in the hurricane in 1987 but have now grown again, and next to it, a ploughed field to remind us of the farms around Wickford.
At the foot of the cross are three small panels representing the two old churches which combined to form Christ Church, and the present Church building.  This is octagonal in shape to echo the shape of our roof.  One of the 'old' churches is Wickford Congregational Church, which stood in the High Street, near the railway bridge from 1875 to 1972. (In fact this was the second home of the Congregational Church, which was founded in 1811 in the Runwell Road, where its graveyard is still to be found). The second is Wickford Methodist Church, built in 1927 opposite the old Post Office in Southend Road and demolished a few years after the two churches united to form Christ Church in 1970.
The third panel is a picture of the new building, erected in 1974. 
Who worked the tapestry?
Muriel Diss and Doris Westgarth designed it
Tom Tyler made and stretched the frame, while Jack Westgarth positioned and hung the finished work.
Vera Blackwell, Jean Riches and David Thompson worked on the three octagonal panels.
Many others, giving a total of 1,253 hours of their time, worked the main body of the tapestry.
Doris's dream was realised on the 24th June, 1999, when the final stitches were inserted.