Wickford Christian Centre - Our History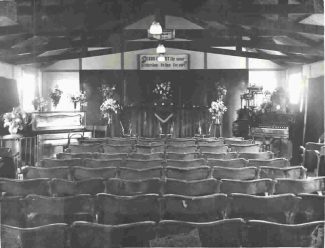 The church was started in 1926 as a result of the Southend Elim Church, in Sea View Road, holding 'special meetings' in neighbouring towns and villages. The first meetings were held in the Tabernacle in London Road. The church then became an independent Pentecostal church.
In about 1934 the church moved to the Market Hall, a building in the old market area. (The Willowdale Centre is now on this site). Here the church prospered and local business people joined. It was decided in about 1936 that it would be good for the church to have its own permanent site. Land was purchased in Jersey Gardens but it was realised that there were plans for a Brethren Church nearby, the land was therefore exchanged for a plot in Crouch Drive, which is now the present site.
In 1937 a licence was obtained from Billericay Council for a temporary building. The building was erected by the Church members under the direction of Mr Hockley from the Southend group of Elim churches.
The church continued to prosper and in 1941 the Wickford Independent Pentecostal Church applied to the Assemblies of God of Great Britain and Ireland for membership. This was accepted and a Mr Hayes, a pioneer Assemblies of God minister, became the first pastor.
During the Second World War the building was damaged by a land mine, which dropped near the Runwell Road.
In 1948 Pastor Hayes resigned and the church was managed by a 'Governing Council' until 1965. Leonard Coxhead then became the part-time pastor until 1968.
Bill Barker became the next pastor and during this time the building was renovated and the old timber frames were clad and pebble-dashed. The church was granted a permanent building licence. The church continued to function in the community under the leadership of various pastors and for the last ten years we have enjoyed blessings under the ministry and care of Pastor Alan Bliss and his wife, Betty.
The old building was demolished in 1998 and through sacrificial giving a new building was built and dedicated to God in April 2000.
The photograph of the interior of the church was taken in July 1944. It was decorated for the wedding of two members – Reg and Grace Cox (they celebrated their diamond wedding in July 2004) and they worshipped and worked in the church for many years.