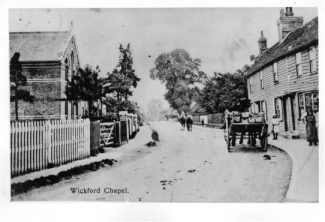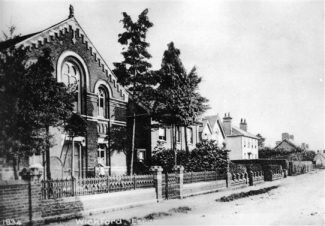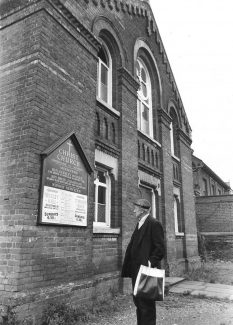 The first Congregational Chapel was built in Wickford in 1811 in the Runwell Road.  The land for this may have been donated by Joseph Crow, who owned adjacent land and was a deacon of the church for 40 years.  By 1816 it had to be doubled in size at a cost of £300.  Rev John Thornton, who was based in Billericay and also preached in Stock, and Ingatestone, was the minister.  The ghost of a black dog was said to roam the chapel burial ground.  As a result of regular winter flooding the building, described in the Chelmsford Chronicle in 1875 as "badly designed, badly situated and badly built", gradually became beyond repair.  Under the leadership of Rev. George Garlick a new site was acquired from James Bartlett in the High Street, opposite the end of Market Road, at a cost of £70. Money was raised and building work began in February 1875.  In April of that year George Brunwin used a silver trowel and mallet to lay a memorial stone.  G. Clark of Wickford was one of the builders and the cost of the work was £513 12s.
Additional rooms were added, renovated or altered over the years. The elegant building was built of red brick relieved with white bricks and Bath stone.  The interior was panelled in oak and had "a timeless, solid, comfortable atmosphere". A memorial to John and Mary Holliday who ran a shop opposite the Church for some years was raised by their children. The Church could hold around 200 people in the stalls and 50 in the gallery. In 1891 a room was added to the chapel which was used as a Sunday School room, and reading rooms and a manse was provided for the pastor. A notable pastor was A.C Potter who served from 1903 to 1943.  Various groups, like the Girls Life Brigade, would meet in church rooms. Some were taken over for use as a British Restaurant during the war.
In 1970 the Wickford Congregational Church united with the local Methodist Church to form Christ Church, Wickford (Congregational and Methodist). The Methodists met in the Market Hall before constructing a place of worship in the Southend Road in the 1920s. They were able to use this building after unification with the Congregationalists in 1972. The unified church  became the United Reformed and Methodist Church.
The High Street Chapel was knocked down to allow for redevelopment of the town centre in 1972, though not without protest from local people. The new Christ Church was completed in 1974 beside the London Road.
Christ Church, Wickford