Christ Church, the history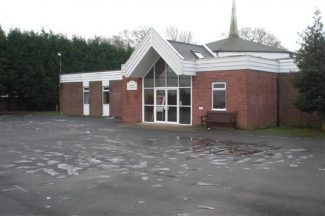 Christ Church, Wickford (Congregational and Methodist) was formed in 1970 by the union of Wickford Congregational Church and Wickford Methodist Church. With the union of the Presbyterian Church of England and the Congregational Church in England & Wales in 1972 to form the United Reformed Church it became United Reformed and Methodist. The U.R.C. has itself evolved further since 1972 so that Christ Church now also represents the Churches of Christ.
Christ Church started its life in the former Congregational Church premises in the High Street, opposite to the Market Road turnoff, retaining the former Methodist Church building in Southend Road as an additional church hall (and later until its demolition as headquarters for the 1st Wickford Scout Group). The old Congregational Church was demolished in 1972 as part of a redevelopment scheme in the High Street area and until the present Christ Church premises next to The Co-operative store were opened in 1974 Christ Church met on Sunday mornings in the Anglican St. Andrew's Church in London Road.
Wickford Congregational Church started life in 1811 on the site in Runwell Road still occupied by its graveyard but nothing remains of this building, not even a photograph. It is recorded that it was known as "the Siamese twins" and that it was prone to flooding. The High Street premises were erected in 1875.
Wickford Methodist Church dated back to the 1920s – the exact date is not known but the site in Southend Road (on the South side next to the by-pass) was purchased in 1927.
Both Churches were very active in the 1950s and sixties and were faced with accommodation problems which seemed insurmountable for various reasons – town planning proposals and restrictions and the lack of suitable alternative sites and the then Methodist minister, the Revd Brian Gameson suggested that the union of the two Churches might be the way forward. This approach was welcomed by the Congregational minister, the Revd Stanley Hodges, and his deacons. They started with combined evening services in 1967 and things moved on from there to full union in 1970. Christ Church was a pioneer in this field and many other churches have followed its example – "local ecumenical projects" as they are known are very common today.
L.L. Lay, 2011