WICKFORD FLOOD - NEWSPAPER CUTTINGS (6)
Flooded A127 arterial road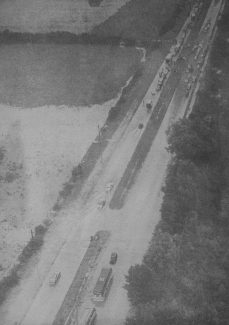 Recently I was able to copy a friend's newspaper cuttings from the time of the Wickford floods. I think these cuttings should be shared with others.
FIRST ARTICLE FROM 6 SEPTEMBER 1958
IT STARTED AS A DAY TRIP – AND IT'S STILL NOT OVER
This is the story of the DAY trip that has already lasted TWO days and the man who spent all night getting home in time to set off back to work.
THE TRIPPERS, two coach loads set out yesterday to see Southend's lights. At 11 o'clock last night they were marooned in the storm between Laindon and Romford.
They were still there this afternoon. at the head of a two-mile queue of cars and lorries on the arterial road from Southend to London.
A police motorcyclist reached them—at the Southend end of the queue—after ploughing his way though lakes of swirling water. "They're cheerful" he reported. "Some of them slept during the night after a sing-song."
At nine o'clock this morning the driver of an empty coach managed a shuttle service to a cafe a mile away. It was the trippers first food since leaving Southend.
Then back they went to their coaches—to wait for a relief coach from London.
As they waited police organised "detours" around the large pools and traffic was able to move.
The ALL-NIGHT traveller is Mr. Frank Cridland, of Preston Road, Westcliff-on-Sea.
This was his timetable :
8pm-Caught a train at Fenchurch Street.
9pm-"All-out" at Upminster followed by a walk up and down the platform with several hundred others.
5 pm-Mr. Cridland stepped through his front door.
He said "Hullo" to his wife, had a bath and breakfast, and went to catch a train back to London.
SECOND ARTICLE FROM 11 SEPTEMBER 1958
The comment below the photograph (motor cycle on central reservation) read: –
On a dry stretch of the main Southend Road between Rayleigh and Basildon New Town today motorists wait for news of the flood which blocked the road ahead.
THIRD ARTICLE GASH & DASH-after the big storm Saturday 6 September 1958
The comment below the photograph (aerial photograph of A127) read: –
Cars, buses and lorries lay abandoned on this stretch of the main London-Southend road near Basildon New Town, this morning. Many of the vehicles lay at crazy angles after trying to clear the flood waters by mounting the centre grass verge. A few more adventurous motorists can be seen setting up a wake as they try to plough through the waters. On each side of the road, stretching into the distance are the waterlogged fields.
I do not know which newspaper the photograph appeared in.