WICKFORD FLOOD - NEWSPAPER CUTTINGS (5)
Milk delivery in flood waters!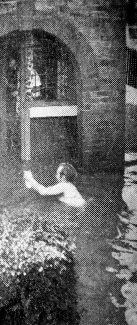 Recently I was able to copy a friend's newspaper cuttings from the time of the Wickford floods. I think these cuttings should be shared with others.
The comment below the photograph read: –
Swimming home with the morning milk at Wickford today.
I do not know which newspaper the photograph appeared in or the date of photograph. Does anyone know who was bringing the milk home?