WICKFORD FLOOD - NEWSPAPER CUTTINGS (3)
Was it you walking the plank in the flood in 1958?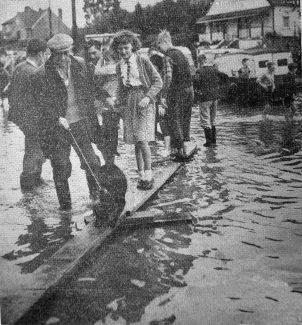 Recently I was able to copy a friend's newspaper cuttings from the time of the Wickford floods. I think these cuttings should be shared with others.
This photograph had the caption: –
"WICKFORD WADES AND WONDERS"
6 September 1958
The comment below the photograph read: –
Hundreds of homes had to be evacuated when floods swept Southern England today. Many roads were under water. At Wickford they kept dry by walking the plank.
The photograph appears to have been taken in Southend Road near where the ring road is now. I do not know which newspaper the photograph appeared in.