Wickford Floods and the DUKW (colloquially known as a 'Duck')
Used to rescue people from the floods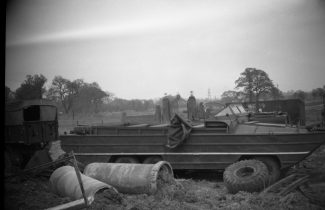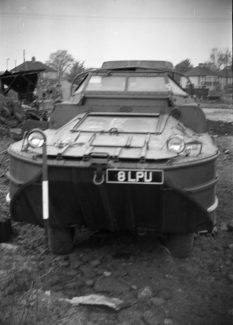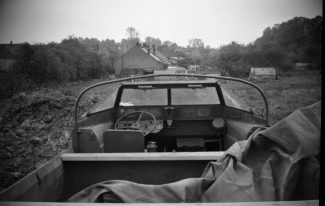 Silva Carter, Director of Carter & Ward Ltd., purchased a DUKW in the 1950s.  Silva had a considerable interest in boats and kept a boat in the creek at Bradwell, so buying the DUKW may have been an extension of this interest.  As a 15 year old I was a keen model maker and wanted to make a model of a DUKW.  My father and Silva were friends and I was granted permission to go onto his land on the 5th May 1959 to take photographs, which you can see here.  I was told at the time of the Wickford floods that the Police approached Silva to ask if he would loan the DUKW to rescue people.  Silva stipulated that he would, on the condition that he did the driving!  The DUKW played an important part in the flood rescues.  
A little information about the DUKW.  The DUKW was a six-wheel-drive amphibious truck.  It was designed under military auspices by Sparkman & Stephens and General Motors Corporation (GMC) during World War II in the USA.  Its purpose was to transport goods and troops over land and water.  A total of 21,147 were manufactured; it was 31 feet in length, 8 feet wide and had a height of 8 feet.  On the road it could get up to 50 mph and in water it could achieve 5 knots (about 6.3 mph).
Why was it called a DUKW, although most people knew it colloquially as a DUCK?  The designation of DUKW comes from the model naming terminology used by GMC:
 'D' vehicle design year 1942,
'U' meant 'utility',
'K' indicated driven by front wheels,
'W' indicated two powered rear axles.
DUKWS can be seen in London, as some have been converted for tourism.  Externally they bear little resemblance to their military predecessors.  The original vehicles have been extensively refurbished and fitted with the latest environmentally friendly diesel engines.  They have comfortable seating for 30 passengers, a public address system and full safety equipment.
Finally, in case you are interested, I never got round to making a model of a DUKW as I started an apprenticeship!