Wickford Flood wedding - the Italian perspective.
The Italian Connection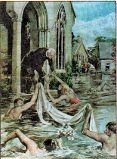 The story of the flood obviously caught the imagination, not just of the national press, but the international press as well!
The Italian press published an article and a full page colour illustration showing four young men swimming towards a church (St. Peter's Catholic Church, London Road!!) with a wedding gown held over their heads and a young women being helped through the doors by a priest.
The caption underneath, loosely translated, said, "In Wickford, Essex, England, they should have celebrated the marriage, but the preceeding night a violent storm hit the village and so much rain fell that it formed a deep lake around the church.  They did not have boats.  The young affianced decided to still go ahead with the marriage.  They put on their swimming costumes and swam to the church.  The groom, the brother and the witnesses carried the bride's dress.  When they got to the church, the groom had to borrow a pair of trousers.  The nuptials ended happily".