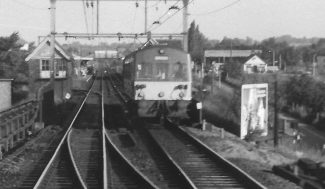 When the railway arrived in Wickford in November 1888 the population started to use it to travel to distant places like Billericay and Brentwood. The ordinary person in Wickford did not normally travel any distance from the village before then and the first passenger train from Wickford to Shenfield only carried two old ladies and a policeman, hardly a rush hour.
Since then passenger numbers have increased dramatically and because of the fairly rapid transport link to London the popularity of living in this area has increased over the years.
Of course the minor hazards of travelling and the frustration of waiting for trains has increased as the lines have got busier. One little incident can throw the timetable out and can cause tempers to snap but I don't think that we always appreciate the hard work of the staff of the railways. Often it is the weather that can put a spanner in the works.
I well remember that in the winter of 1962/ 63 whilst travelling home in the very late evening from Liverpool Street getting stuck in a snowdrift between Billericay and Wickford. The electric train that we were travelling in could not move any further and was stuck in a cutting. Fortunately there was a steam locomotive at Shenfield and that eventually pushed our train through the snowdrifts into Wickford station. Again on another occasion the icy weather struck and I was going in the opposite direction when we were halted by a red signal outside Seven Kings station. I heard a siren in the distance which seemed to be getting nearer when suddenly there was a clang and I found myself sitting on the floor in a thick fog with water running down the gangway between the seats. The thick fog was the dust that was knocked out of all the seats and the water was from the cistern in the adjoining toilet which had been wrenched off the wall by the collision. The other passenger in my compartment had disappeared. The cushion in the seat opposite him had jumped out and had landed on top of him, hiding him from view. I finally managed to extricate him from underneath. The front two carriages of our train had been sent rolling down the track for quite a distance after the coupling had been snapped off.
It later transpired that a runaway mainline train hauled by a diesel loco had hit the back of our train which brought the diesel train to a halt. Apparently the second train's brakes had frozen off after it left Colchester and it had been unable to stop after that. This left the passengers who should have boarded it at Chelmsford and Shenfield watching the back of it as it disappeared into the distance.
There was only one, not too serious, injury on either of the trains.
Has anyone else got a commuting tale to tell? There must be plenty.
If you have let us know.