Cyril Stiles, my story.
Brick making in Wickford.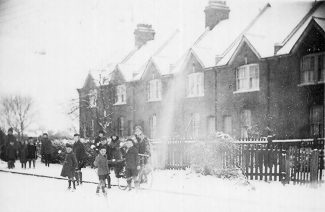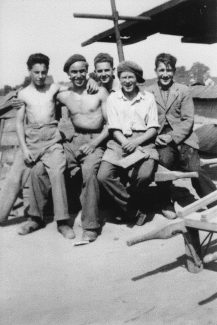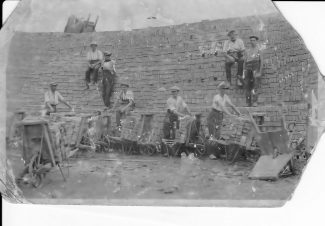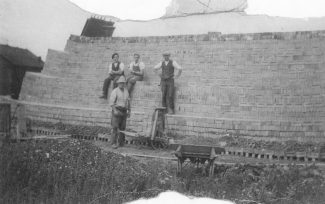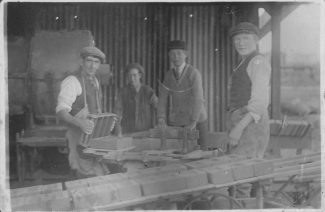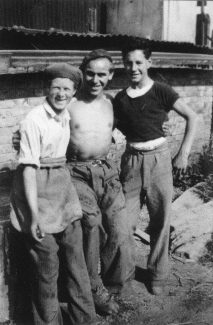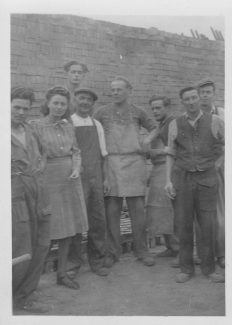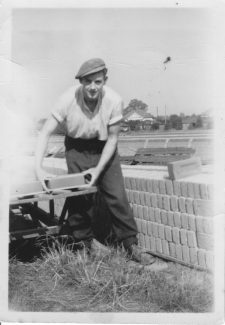 Mr. Cyril Stiles interviewed on the 19th May 2011. by Carole Wellby and Geoff Whiter.
"I was born at 3.15 in the afternoon (I think it was as I was upside down at the time and couldn't see my dad's watch) on the l3th of March 1937, in what was number 5, Brickfield Cottages in Nevendon Road. My family had occupied the place since 1929 and previous to that they lived in Peartree Cottages, in a small shack in what is now the old peoples home, in a wooden Essex-boarded cottage and which looked like one but is in fact two.  Owing to the floods year after year – the cottages were very low – they were eventually given the opportunity to move to No.5 Brickfield cottages, which was opposite Elder Avenue. There were 5 boys 1 girl, and I was the youngest. (Only one brother is left now and he lives in Chelmsford, he is 7 years older than me). They all went away in the Army and Navy during the war and my younger days were spent saying "Hello" and "Goodbye" to people, and it sort of left me in my own company.
Getting back to Nevendon Road, my grandfather lived at no.6 and he was the roadsweeper. His stretch was from Wickford Bridge up to Nevendon (the new Cricketers) to a farm that was owned by a family named Glasscocks who originally came from Scotland. That was his stretch and wherever he was he would sit down on the kerb to eat his lunch, even if he was outside his house, because if he went indoors someone would come along and say he wasn't doing his job. My father had various jobs and he was in the 1914 war and he got wounded very badly so he wasn't eligible for the last war, but he was in the Home Guard and he was quite proud about it, but he did his time over in France and then of course it was my brother's time to take on. My mother didn't work – she had no time to work.  Once I got to the age of 5 or 6 she used to take in washing.
My father used to work for the Ministry of Agriculture, on the land driving tractors, and he got us pea picking and potato picking.  My mother would walk to The Fortune of War at Laindon and work on the fields there, and my father would come along on his tractor and reach in his waistcoat and look at his watch and say "Come on Lil, it's time to come home" and she would go then to cook his dinner. That's how it would go you know. She would walk back through Borwick Lane, past the old cottages where my father was born.
When I was about 13 she then got a job at the Infants School at Irvon Hill, which was three classrooms, prefabricated buildings, as one of the cooks, not as Cook but as an assistant. When I started school there were only 2 classrooms which were included in the Senior School, so we virtually knew everybody. The kids would come from Shotgate and Woodham Ferrers. If you can image we had two teachers, and one was called Miss Keeling and she lived in Swan Lane, in the Laurels, and she used to ride in on a up-sa-daisy bicycle. She was very tall, with big long skirts flying, and the other lady went to Australia (her name escapes me at the moment). So we had two teachers, and then they built the infants school and we went across there.  I can remember that they taught me how to write the number 2 like a swan.
We progressed from there and went to the red brick school, in the middle of which was the Junior school. We had a Head Mistress there named Miss Salter who was rather staid and upright, and a bit fearsome. We had a really lovely Art Teacher, who was Mrs. Mason, and a lady who used to take us for Maths, Miss Sims, and she had a brother who had a cycle shop in the Southend Road which used to be a cafe and he was rather hunched over, but he  was a wonderful  gentleman and he used to drive an Austin Ruby. Sometimes he would open the back up and let me get in. You could go to him and say "I want a pair of mudguards" and he would say "Alright boy" and he would say it was l/6d and I only had a shilling, then he would say "OK, bring the 6d in when you have got it". I was about 7 years old then but we were not allowed in the cafe. You could when you were a little bit older.
The war started in 1939 and I was born in 1937, so by 1940 my older brothers were up and gone. Nobody told you anything in the those days but you suddenly started missing people.  When I asked about Fred "Oh, he was in the Navy", and then my sister went missing but nobody told you anything. There was a lot of sadness, but we only lost one during the war and that was an aunt.  During an air raid, Uncle Jack and Aunt Laura were there and it was getting a bit hot and she said "I'm going down the air-raid shelter", and she moved forward and the ack-ack from one of the shells came down and hit the road in front of her and fell at her feet.  Uncle Jack was severely wounded and took the shrapnel under the ribs near his heart, but he lived, but they didn't find many pieces of her. I remember the hole in the ground and that was the only family that we lost. I remember mother would just sit there and I would ask what was the matter and of course she was sad because they were all away in the war. I was born just before the war and suddenly people started disappearing but we weren't told anything even about my sister.
I met my wife at The Meads at Brentwood, at a dance. I was 36 years old, getting old, but I had been married before. My wife, Sally, is here now and she is the best thing that ever happened to me. She lived at Seven Kings and I asked to give her a lift home. We married on the 2nd May l970 and had two boys who are now married; I had a son from a previous marriage and he is married and has a son and daughter.  I enjoy being a Grandad because it is like having a second chance. When I met my wife it was a funny thing because the following weekend she was going somewhere else and I still went to the Meads and met another girl, who was quite nice.  Anyway, after Sally and I got together, we went to a party and saw someone who looked familiar and then found it was this girl. She turned out to be a good friend of ours. We got married in Seven Kings and the man who married us was Mr Sammers.
Going back to my education, the Senior school was built in 1937 – that was the big one at the top of Irvon  Hill. The entrance was not there when I started School. The Junior School is the red brick one. No-one really told us about going to School and I found myself in a dark corridor being handed over to a Head Teacher called Mr. Rose.  I remember sitting in a classroom looking out of the window towards the bicycle sheds.  In the fields behind there was an ammunition dump and for some reason there were rolls of barbed wire and on the wire there was a sparrow and I was feeling lonely and wished I was a sparrow so I could fly away.   This is my first memory of school, and the next memory is of going to school and looking in the air-raid shelter and seeing two massive bombs that the Germans had dropped.  They had come right through the roof and were just sitting there and hadn't exploded. Fortunately we weren't at the school at the time.
I can remember most of the teachers names, and one in particular was Mr. Crook who was woodwork teacher, a fine gentleman, keen on cricket. He was very fair but very strict and could put his hand to anything making it come alive. He had the most wonderful pencils and he would mark something for you in beautiful fine writing and look over the top of his glasses and say "Very well done". If you asked for a screwdriver he would give you a hammer. That's how he was and we wouldn't have it any other way.  Apart from playing truant, my favorite subject was drama. I nearly got the job of Long John Silver but I wouldn't have my leg off. I can remember two plays that I was in and I can remember the first lines and a lot of other lines, I really loved that time. I don't do any drama now.
I left school on a Friday in 1952, and I think that was about half past three, and then on Saturday morning I was at work in the brick yard. I didn't enjoy it at all but it was an experience. My first wage at that time was 15/6d and that was piece work.  We made something like 50,000 bricks in a week. Looking back I was only l5 and wasn't really man enough for it, but it didn't take long to get the muscles for it. I have a lot of drawings of the brick yard.  When I was 16, my eldest brother lived in Nottingham and worked for a the National Coal Board as a maintenance man. I had this fancy that I would like to be a coal miner, and he said "If that is what you want you can come and live with us", so I went and lived in Nottingham and applied to the National Coal Board. I waited and waited and took a job while I waited with a company that made car seats. The job was OK but after about a year I came back home and I suppose you had to go to work as it was an embarrassment to be out of work. Then I went to work in the brick yard and I wasn't very content about that. It was like working in the countryside and you only see the three or four men that you work with. Day in and day out you get to know them and it's another world out there although it isn't really because if you get up to go to London at 6 or 6.30 of a morning you still see the same people every day.
I stuck at this job until I got my calling up papers in 1958, and that was National Service when I was l8 years old. Apart from drama I was very keen on physical training so when I went into the army I inquired about becoming a physical training instructor, and I was sent down to Kent for three weeks and then on to Aldershot and spent another 10 or 12 weeks there and passed as a PTI and got my crossed swords – that is what you get when you pass, and you get a rank which is a Lance Corporal.
I came back from Aldershot in the November and within three days I was on embarkation leave for the far East; I was then a PTI going to a hot climate. I then went aboard ship to Hong Kong but stopped off in Singapore and had a small spell in Malaya, and when I came back I had the last 6 months in Dortmund, West Germany, of National Service, which was 2 years, and after that I signed on for a further year to  get that extra 25 bob. I became a regular then I had to sign for 22 years with an option of three so I took the three years. I had a great time and thoroughly enjoyed it, but like all of us when demobbed the object was to get yourself good job and get yourself settled down. That was what was instilled in you. I did, but sadly my first marriage was a failure on both sides. It wasn't a shotgun marriage or anything like that but that's another story. The good thing was that I had a son from that marriage and he lives nearby in Southend.
On 4th April 1958 I came out of the Army and the first job I had was with Taylor Woodrow and we altered the factory that became Carreras. From there I went to the Electricity Board as an overhead Linesman. I did 8 years at that and then I did a bit of time with carpentry work and became a carpenter; although I wasn't fully qualified I became self-employed. That was OK for a few years and they say if you go 5 years you are OK. It was a good experience. I stayed self-employed, sub-contracting as I didn't have to find my own contracts which was fine, and I think that brings me up to date now.
Going back to the domestic side of my home life, as a child I remember spending a lot of time with my mum and she shopped in Wickford. It was never much of a place but when you go there you say "Hello" to just about everybody. We also went to the grocer's shop in Nevendon Road (now a barber's shop), run by Gladys Curshaw, a spinster lady. We bought all our bacon, butter and cheese from her. I can remember on a frosty morning taking the syrup tin up to her to get it refilled with syrup for breakfast.
We always sat at the table for our meals and we all had our own knife, fork and spoon, and we had our own chair and we weren't allowed to sit in our Father's chair and we couldn't rock back in the chair. He was the head of the house that was how it was in those days. As the houses were then you went into the front door and you were immediately into the front room which we only went into at Christmas. There was a door that went into the kitchen and from there into the back garden and we always used the back door to come in. We grew all our own vegetables. The gardens at the back of the house were all open to us with an outside toilet and wash house. Summer time you wash outside and winter time indoors. It worked alright
There were three bedrooms. Two at the front and one in the back. Clothes were handed down and I can remember I had a coat once where the sleeves were definitely too long. You could shop at the Army and Navy but the teachers weren't too pleased when you turned up with a Japanese Rear Admiral's outfit.
I still have the rent books from way back which was a shilling a week right up to when Sal and I paid rent and in the end we bought the old place. In l970 up to 1990 our rent was 25 shillings a week and it was paid through an agent, Bairstow Eves.
People say that these were railway cottages. They were known as Brick Field cottages but they weren't built for the brick fields. You know Deidre Avenue, well Deirdre was the daughter of Housemans who owned the big house at the back of the farm. They had a big red barn there and they owned most of the land round there. The first builder that started to build there ran out of money, and I believe that his name was Taylor and there was another builder took over and they were built in 1900, and there is a plaque between the two of them but you can't see it now. You could see the difference between the two builders.
My father said they were built without doors but they had blankets up and my father was born just off Gardiners Lane, in Borwick Lane. My Grandmother weighed about 20 stone and was born in India  Her father was in the army in India.
All the family lived round about and some lived in Gardiners Lane. My mother's family came from Peckham. Her mother died and her father married again to a lady from Waltham Abbey, and then moved to Wickford. My father met my mother through my uncle and brother and sister married sister and brother. Sounds funny but it is true and a lot of brothers married friend's sisters etc.
My father never did anything about the house other than bring the money in the house and put food on the table. He tended the garden and grew the vegetables etc. He was very strict with my brothers but I was very lucky. He never knocked any of us about but being the baby I suppose I was spoilt. We all had our time to go to bed and also get up and we all had our chores to do. Cleaning the dogs and cleaning the guns, chopping the wood.
I remember the first time he ever took me shooting he brought me home and said "Well, what do you think?" and I said "Well I don't think much of it. We didn't shoot anything and we came back home so what is there in that."  He sat down and said "I want you to think about what I am going to tell you, that countryside belongs to you and you have to look after it and just keep your eyes open. You are not out to commit murder but to kill to get yourself something to eat. That countryside belongs to you and if you pay attention to it will tell you a lot". He said "You have been with me all day long and you tell me you haven't seen anything.  How can you say that? What about when we sat in the hedgerow and the little birds were coming and going, didn't that tell you anything? Was there a fox about or other predators. All those hedgerows are their larders". That's how they were in the country.
I was very fortunate where I lived and we were kept very close and weren't allowed to wander off but we were allowed out in the fields to go bird nesting, etc. But we didn't rob nests or anything. Anyway, I was fortunate enough that in No 1 Nevendon Road there was a family named English and as I said previously her husband was away in Egypt and she had 6 children, the eldest was Ronnie, the next one was Rhona, next was Rita, then Rula and then Ruby and the last one was Daphne. She was born at the end of the war. We were blackberry picking and Ruby said "My mum's going to have a baby and we all went "oooh". Being all girls I played a lot of Hop Scotch and Nurses and Doctors. I used to get the job as the ambulance driver, Roy Rogers and that sort of thing, and I could skip rather well.
The big house on the corner of Nevendon Rd and Laburnham was built for the foreman of the farm not the foreman of the brick fields.
We had very long gardens and at the end there was a hedge and we could all obtain access to the brickfields from the bottoms of our gardens. There was a pond and next to that was stables and this was owned by a gentleman by the name of Beard and he kept horses there. When you come down to the brick yard and there was a big shed where the lorry was kept, and the sheds were where the bricks were kept and then there was the office. 
This was winter work – during the winter this was called working in the backs, which was the other side of the brick making sheds, way down where the dual carriageway is now, and that is where we used to dig clay from.  It was brought up from the backs and there was two mills here which were  driven from the engine shed. We used to throw chalk in the smaller mill which we got from Grays and the Harrows used to break this up until it looked like milk, which was trickled into the clay and took on this lovely yellow colour.
The bricks we made.
10,000 bricks were made in a day. Essex stocks. Take 2 / 3 weeks to dry. I was there for 2 ½ years, starting at 6.45 in the summer until 8.30 p.m., with only one break, and nowhere to wash or anything. But you were in work. Earn up to £1000 as a setter. The Company name was W T Rand & Sons.
Finally the clay ran out and the brickfield had to close."