Connors of 'Craiglea', 144 Swan Lane.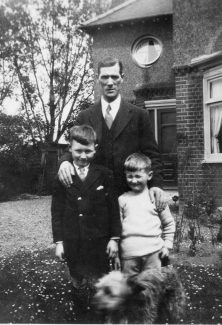 My grandparents, David Muir Connor and Isabella, his wife, lived at 144 Swan Lane from at least 1920 to 1959 when he died, his wife having pre-deceased him by 1 year.
Their neighbours, the Jeffreys owned a bicycle shop nearby, and were extremely kind to me as a child.  David was a travelling salesman, and I would guess from photos, that he was a lieutenant in the army when he married in 1919.  He must have also been an officer in the Home Guard during WWII.  
They had 2 sons, James Graham and John, and John died tragically at Battlesbridge, falling into the river and disappearing, only to be found days later.
My parents came to live with them during the late 50s as my grandmother had cancer, and my grandfather Parkinson's disease.  When they passed away, my father inherited the house, but a developer had already bought the neighbour's land, and so the acre or so belonging to 'Craiglea' was added to the development.  At only 5 years old, I never made it to the bottom of their garden.
I had a mentally handicapped brother, so my poor mother needed help nursing two sick parents in law.  A lady called Mrs Guilder, also a local, assisted her for some time.
I wonder if there are any people left who might remember the Connors?