WICKFORD TOWN YOUTH FOOTBALL CLUB - the history.
Wickford Town Youth FC is one of the longest serving clubs in the community, having been in existence since 1969. The following are brief highlights, and some lowlights, of the club's history.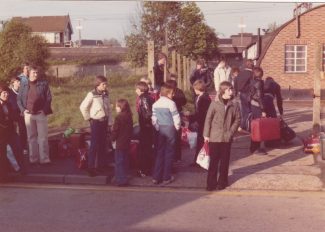 1968:  The very first game was in December 1968 at Wickford Memorial park, pitch 3, against the Wickford Cubs representative squad.
1969:  A junior section to the Wickford Town F.C. was launched and when the adult club folded later that year, the junior section affiliated itself to the Essex Association of Boys clubs and renamed itself Wickford Town Boys Club. Team colours – Old Gold shirts, Black shorts and socks.
A single team (Under 12s) played its first league game as Wickford Town FC on 21st January 1969 against Leigh Rangers in the Basildon Youth League.
The first Committee was just 4 members – Founder George Merrin, assisted by Reg Bailey, John Carter and Audrey Carter.
1974:  This year saw the start of a long running friendship with the German side Fortuna Bredeney in the town of Essen, West Germany. Numerous exchange visits and tournaments were regularly held between the two clubs over a 16-year period. Each year two teams from Fortuna would visit Wickford during the Easter weekend and two teams from Wickford would travel to Essen during the May bank holiday.  Players and officials would stay with host families.  Apart from football there would be a number of social events and many long-term friendships were made.
1978:  Founder George Merrin leaves the club to work in Dhahran, Saudi Arabia and some years later emigrated to Cairns, Australia where he was to become involved in youth soccer, running the Far North Queensland Football Association and organise European tours for his representative sides that included here in the UK sightseeing, visiting Premiership League clubs and playing friendly matches against Wickford Town and other local teams.
A building with a corrugated metal roof in Station Avenue, owned by John Holman Insurance, was used by the club for a variety of activities. Tuesday night was club night where members could play table tennis and darts among other activities, teams would also use the facility for training sessions
1981:  Wickford Town for some unknown reason weren't being invited to 5-a-side competitions so the football secretary decided that the club would run its own. The tournament was held on a piece of land known as The Runwell Pitch, in Southend Road opposite the Hill Avenue shops, the land had been left to the youth of Wickford by local resident Colonel Burton. It is said that before the war both Arsenal FC and Essex County Cricket team played on this site. The land was used for matches, training and football tournaments where cover for referees and officials was a large tarpaulin strung between trees and bushes. An old door clamped in a Black and Decker workmate was used as a noticeboard for fixtures and scores all written by hand.
1989:  The club had grown to 15 teams that required more pitches, more training and more dedicated people to run the club. Football matters were still split from club matters the small committee would continue to have monthly meetings at someone's house.
A team manager had found a sponsor for his team a kit; the manager purchased Yellow shirts, Green shorts and Yellow socks. Much discussion took place at the next committee meeting where the decision was made to adopt the colour scheme as the new club colours.
1998:  The club changed its name to Wickford Town Youth FC to reflect the growing interest and involvement of girls and to reflect the non-discriminatory policy in the club.
The club starts using a building in Memorial Park known as Table House, it has changing rooms, storage areas and that all important kitchen that on match days provides bacon butties, hot and cold refreshments.
2000:  The first girl's football team is formed.
The club opened a relationship with the Rotary Club of Wickford and with their financial backing purchased the piece of land known as the Runwell Pitch. The club purchased this land, which had been used for many years by various Wickford clubs, from Essex County Council to ensure continued playing facilities for the club and its members. With help from the Rotary Club, the ground was developed by cutting back surrounding foliage, re-seeding the central pitch area and adding a car parking facility. The name of Wickford Town YFC was proudly displayed on a board by the entrance.
The club became one of the first clubs in Essex to be awarded the prestigious FA Charter Standard, recognising the clubs commitment towards development and organisation of youth football.
The club acquired from Basildon Council a 7-year lease for "Table-House", a building located in Wickford Memorial Park. Previously used as a "holiday home" for disadvantaged children this had fallen into disrepair and been unused for 5 years. With generous help from club members and friends, the interior was renovated and transformed into a mini clubhouse with 4 changing rooms, toilets and kitchen facilities. External redecoration was also completed with help from the Princes Trust. Table House is open every Sunday morning during the season providing refreshments to players, spectators and match officials.
2001:  Another great achievement for the club being awarded FA Charter Standard Development Club status.
The club moves the annual 5-a-side tournament from the 'Runwell Pitch' to North Crescent School. No more cars parked on Southend Road causing congestion for 2 days, no more tarpaulins strung between trees as a registration tent and protection for the referees in the blistering sunshine, no more large water containers.  We have a Proper car park, a kitchen, electricity, running water and the luxury of toilets but above all else a safe environment for young players and visitors.
The club Internet website is launched, developed and maintained by a dedicated club member.
2002:  Building upon the Charter Standard, Wickford Town YFC became only the 2nd club in Essex to be awarded FA Community Club status.
Concurrent with the major house building programs at both ends of Wickford, the club sees an expansion of its mini soccer section (up to under 10's) to 10 teams. Girl's teams expand from 1 to 3 teams.
Wickford Town starts its first Veterans (over 35s) team, playing in the Ridley's Veterans League.
2003:  The new season sees the introduction of an Under 18 team and continued upward expansion in mini soccer to 12 teams (plus 3 additional training only squads of under 6's).
2005:  Parent Eddie Wright sadly had a heart attack pitch side whilst watching his son play, Eddie sadly passed away and at a committee meeting it was decided to arrange a Memorial game to raise funds to be given to a good cause chosen by Eddie's wife. Many people supported the event, the players including Eddie's son's showed great attitude making it a fun event. Julie Wright thanked the club and asked if the match could be played annually as her family and friends enjoyed the occasion so much.
The club to becomes one of only 82 Charter Standard clubs in Essex and one of only 8 clubs in Essex who have Community Club Status.
2006;  The Runwell Pitch is sold to developers for 35 acres in Shotgate.
The weather turned the annual 5-a-side tournament into a mud bath but with several rolls of carpet, plywood panels (donations from club members) and marking out 4 repositioned pitches in the early hours of Sunday morning for the second day's play, the tournament was once again an outstanding success.
The club took up the offer of hiring football ground at Rettendon; the ground was large enough for 3 mini soccer pitches and had a building that could be used for storage and changing facilities.
The club is the largest it has ever been with 28 teams and in excess of 300 playing members.
2007:  A major down side to the year was and is the ongoing vandalising of Table House in Memorial Park. This is costing the club many hundreds of pounds in repairs.  TV and media press have given news coverage to highlight the clubs' plight.  The police remain vigilant to eventually apprehend those who are vandalising the building and surrounding trees.
2008:  An application for funding was reviewed at a Football Foundation preliminary meeting in January but was knocked back.
Annual club football tournament moved to Bromfords School, a larger facility and the format revised to include both 5-a-side and mini soccer.
2009:  The Shotgate project – Pitch preparation scheduled for March put back 1 year due to the economic situation.
An ex Wickford Town player (Claire Capon) currently with Colchester United Academy represents the Welsh National U17 team against France, Netherlands and Denmark.
Our best ever annual football tournament. 100 teams took part with 850 children played football over the 2 days with no injuries or bookings.
A 9-year-old girl from the club has been chosen to play at the West Ham Academy.
Jeremy Lawrence entered his u12 team in the Association of Essex Boys and Girls Clubs National 5-a-side competition. The team represented South Essex in the Regional Final at Woking. The team finished runners-up and went through to the National Finals at the Trafford Centre in Manchester.
2010:  Shotgate Project – Preliminary work on 6 pitches due to start.
2011:  Connor Jones wins the club competition to design a new club badge. The winning design, one of 19 entries, will be applied to club football shirts.
The application to the Football Foundation was reviewed at a preliminary meeting on the 18th January but was knocked back.
Steve Dalligan, Jeremy Lawrence and Jon Boakes pass the FA Level 2 Coaching course.
Planning application for the pitches and changing rooms etc at Shotgate passed by Basildon Council.
U14 Lions are runners-up out of 3000 teams in the Street Soccer and Freestyle football competition.
2012:  Men's Reserve team folds due to the lack of players.
George Doyle (U16) signs for Norwich City FC.
A valuation of the Southend Road pitch is finally agreed and the developer starts enabling work at the Shotgate site.
2nd of November Wickford Town Football Club has been registered as a Charity in England & Wales. Fantastic news for the club and should provide greater funding opportunities for the club going forward.
2013:  The pavilion, changing rooms; car park and work on pitches at Shotgate are finished.
The new Wickford Town Ladies team prepare for the forthcoming season.
13th December – Southend Road / Shotgate Facility legally completed today. Wickford Sports is now the official owner of the Shotgate Site. Massive thanks go to Paul Haine, Richard Neville, Chris Evans and Tony Silk for all their hard work over the years to make this Dream a reality.
2014:  7th June – After 12-15 years the wait is finally over – Open Day at the new Shotgate facility is a huge success. Club President John Bartlett cut the ceremonial ribbon and unveiled a plaque officially naming the facility 'Bartlett Park'.
2015:  Steve Tilson becomes manager of C&K Basildon Ladies FC. Steve is an ex Wickford Town Junior Section player who began his footballing career with non-league sides Basildon United, Bowers United and Witham Town before being signed by then Southend manager David Webb. During the 1990s he appeared in just under 250 matches. Steve also had a loan spell at Brentford, until 1998, when he signed for Canvey Island, serving as club captain during his 4-year spell with the team. In March 2004 Steve became manager of Southend United, a position he held for 7 years after which he managed Lincoln City FC and then Canvey Island.
Great celebration for the U13 East team winning their first game in 3½ years (3 yrs 6 months 21 days.
Our Ladies team complete their 2nd season and reach the Semi Final of the County Cup.
President John Bartlett attends the Essex Boys and Girls Clubs annual dinner and awards evening to collect 'The Matchroom Trophy' awarded to Wickford Town FC as the club that had done the most for itself with respect to Bartlett Park.
Bartlett Park used regularly by our teams for training sessions.
Teams start using the all-weather pitch at Billericay school for winter training.
5, 7, and 9-a-side matches will be played at Bartlett Park for the 2015/16 season. 9 and 11 w-a-side matches will be played at Memorial Park.
2016:  President's Trophy awarded to Robert Lodge and Josh Hudson for raising the profile of the club in the local community, supporting all events the club had facilitated for local schools and offered advice and support to youngsters. A number of schools had written expressing their gratitude and asked that Robert and Josh be recognised.
Basildon Council approves the plans for the development of Bartlett Park.
Discussions continue with the FA and the Football Foundation concerning the grant application.
2Worlds facilitate a variety of school events at Bartlett Park.
Essex FA provides a mentor for its "FA Mentoring Programme" to improve coaching provision.
2017:  The Football Foundation grant is approved and the development at Bartlett Park can finally get under way.
Building Contractors arrive at Bartlett Park on 16th March to start the long-awaited clubhouse extension. The extension will have more changing rooms, new kitchen, a meeting room and function room.
Clive and Helen Lodge are guests of The FA – Community Shield at Wembley for Services to Grass Roots Football.
Wickford Town FC awarded Club Mentor Status 2nd year running by the Essex FA.
The Club football tournament, on 9th September, returns after a 4-year absence.
Sadly, in October Table House in Memorial Park is vandalised beyond repair, valuable club kit and equipment is damaged or destroyed. Due to the extent of the damage the club will no longer be able to use the facility and the council will have it demolished.
2018:  Basildon council approve a planning application for five 11-a-side pitches and 100 car parking spaces at Bartlett Park.
U16 Lions win the Essex Boys and Girls Club's 5-a-side Championship. The team defeated the current National Champions in the final and progressed to the National Finals in Manchester.
Bartlett Park is continually used for various social activities, by local schools for sport events, scouting organisations and the FA for refereeing and coaching courses.
The clubhouse extension is officially opened on 23rd June by Wickford and Rayleigh MP Mark Francois with representatives of the Football Foundation and Essex FA also in attendance.
Teams will use the new 3G pitch at Beauchamps school for winter training.
The 13th annual Eddie Wright Memorial match is once again a huge success.
25 teams registered for the 2018-19 season.