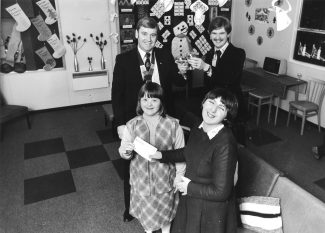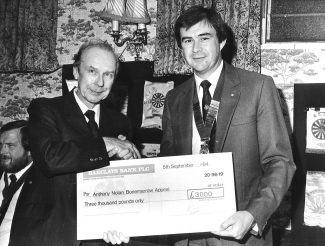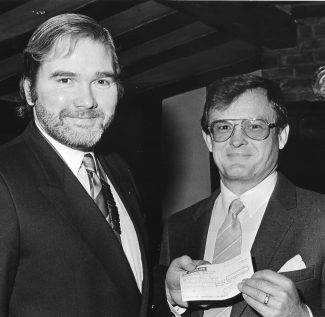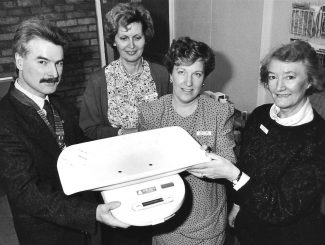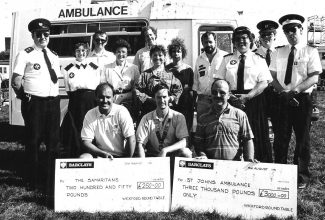 Round Table in England
The first Round Table was formed in Norwich in 1927.  The founder, Louis Marchesi, a baker and young member of Norwich Rotary Club, felt a need existed for a club where young men of various occupations, of the town, could gather on a regular basis.  At their meetings they could exchange ideas, learn from the experiences of their colleagues and play a part in the civic life of Norwich.
Within a year of inception the membership of this Round Table had grown to 85 and interest was being shown in establishing Round Tables elsewhere.  From a very early stage it was agreed that Round Table would be a non-religious, non-political club and this has continued to this day.
A second Round Table was established in Portsmouth and subsequent growth was rapid, with 135 Tables and a membership of 4,600 by the outbreak of the Second World War in 1939.  Round Table proved an international appeal with the first overseas Table formed in Copenhagen in 1936.  During the war years Round Table in Denmark continued to expand, in spite of the occupation, although in the British Isles activity was restricted and was in the nature of a "holding operation".
After 1945 the pattern of growth was rapidly re-established with Tables being 'chartered' all over the UK.  Today there are about 1,000 Tables with a membership of around 13,000.  Round Table now flourishes in the majority of European countries, through Africa, the Middle East, India, Hong Kong, New Zealand and America.  In fact Round Table is represented in every continent of the World.
Wickford Round Table, No. 747
In late 1959 a local Estate Agent, Harry Champion, who was also a member of West Ham Round Table, organised a preliminary meeting of young men to be held at The Castle Hotel, Wickford.  At that meeting Harry explained Round Table to all those present and sufficient interest was shown to encourage him, with the support of members from West Ham Round Table, to arrange further meetings in 1960.  From these meetings it was agreed that there was a possibility of forming a Table in Wickford.  The Inaugural Meeting was held at The Masonic Hall, Hutton, on Wednesday 14th June 1961, when it was formally agreed that a Round Table be formed in Wickford.  There were twenty two founder members and from these, election of officers took place; the following were voted upon, Chairman – John Mellon, Vice Chairman – Brian Ruff, Treasurer – Bill Hills and Secretary – David Williams.  It was also agreed that Wickford Round Table should meet at The Castle Hotel, Wickford, later at Simpsons Restaurant in Southend Road, Wickford, on the first and third Wednesdays of each month. (The Castle Hotel was later demolished and replaced by Aldi Supermarket).  Membership increased to thirty two by the time of Charter Night, which was held at Hutton Masonic Hall on the 6th March 1962; the Charter was presented to the Chairman of Wickford Round Table, John Mellon, by the Area Chairman, Tabler John Sargent.  By that time 746 Round Tables had been established in the UK, Wickford Round Table was number 747.
To raise funds to assist in providing facilities for the residents of Wickford, we established a Guy Fawkes night for the public to attend, also constructed a 'Christmas Sleigh' to allow "Father Christmas" make collections when he toured the roads around  Wickford; this continues to the present day, the organisation being taken over by Wickford Rotary Club in 2000.
Not to be outdone our Ladies formed a Ladies Circle Club in 1962.
1963 saw the earthquake in Skopje, Yugoslavia.  An urgent appeal by the Yugoslav Red Cross was made for temporary housing, and the British Government sent a contingent of  Royal Engineers to help in the construction of accommodation.  The B.B.C. broadcast a report from Skopje by one of their reporters who happened to be a member of a Round Table and from his report and suggestion various clubs decided to assist.  Wickford Round Table in conjunction with West Ham Round Table purchased a second hand, thirty feet long, caravan, this was decorated and serviced and towed to Skopje by a crew of four, two members of West Ham Round Table, Harry Champion and George Cockling and two from Wickford Table, Reg Budgen and Roy Thompson. We handed over the caravan to the Yugoslav Red Cross in Skopje after a seven day journey, reaching a maximum towing speed of 32 mph on the autobahn in Germany.  We later received a photograph, taken by an Officer of The Royal Engineers, showing the family who lived in the caravan. This made the undertaking all worthwhile.
Our fun, fellowship and fund raising continued, enabling us to donate, at Christmas Time in 1967, 26 toys to the children who were either resident, at that time, in children's homes in the area, also those in Billericay Hospital; another project was to raise a substantial sum of money to purchase equipment for Billericay Hospital, centrally heat the Elderly Persons Day Centre in Wickford and construct a paddling pool in Wickford Memorial Park.  We also entered, on many occasions, a float in Wickford Town Carnival.
Visits to Round Table clubs in France, Germany and Belgium were undertaken by members of the club; also two members attended a conference of Young Men's Service Clubs held in Edmonton Canada, in 1967.
The friendships formed from Round Table continue to this present day in Wickford 41 Club.  This club is for ex-members of Round Table who have to retire from Round Table on reaching the age of 45.
Wickford Round Table continued to flourish until 2000, when a lack of new members forced its closure.
If there is a group of young men between the ages of 21 to 45 keen to reform Wickford Round Table, please make contact with Roy Thompson on 07732 456261 or email  www.roythompson@fivevalentines.freeserve.co.uk