The Pulling Power of Concorde.
Rotaract (Wickford) fundraiser.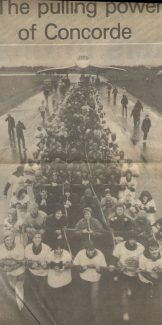 Evening Echo, 12th September 1983.
Heave Ho. Charity workers did not let the plane take the strain when they pulled Concorde across the tarmac. More than 1,500 Rotaract Club members heaved the Anglo-French jet six miles, at speeds rather less than supersonic to help boost their funds. Despite the rain it is hoped they would raise £20,000 to help the mentally and physically handicapped.
The plane, exhibited at Duxford Museum, was pulled by about 200 people working in shifts.
Sally Hayden, of Hill Avenue, said "It was tricky to turn round, but once we got it going it wasn't so bad. We battled on though the heavy rain which drenched us to the skin. We were determined to finish"
Rotaract members came from miles around to add their weight to the good cause. Last year Rotaract Wickford members dragged 10 double-decker buses from Wickford to the Zero Six disco, in Southend. Sally said "Next time I would like to fly in Concorde rather than pull it".
Photo copyright Echo Newspapers.