The Rotary Club of Wickford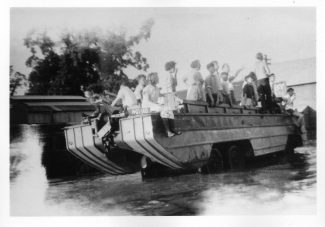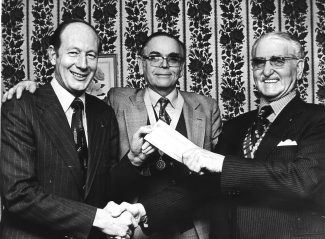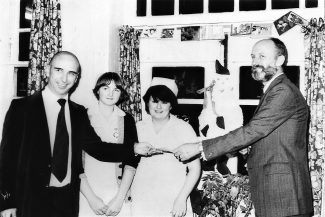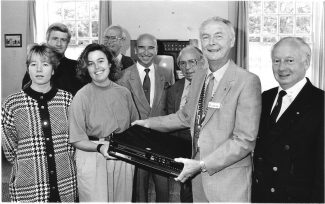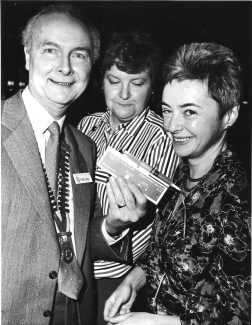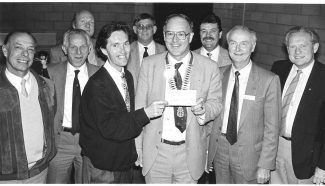 Beginnings
The Rotary Club of Wickford was Chartered in September 1958; the 'mother' club being the Rotary Club of Brentwood.
It was said that interest in Rotary came to Wickford when Silva Carter and Stan Ward (of Carter and Ward, the builders), whilst sitting in a cafe, saw a Rotary lapel badge, which is depicted by a cog, and asked the wearer to which cycling club he belonged.  Following the explanation on what it truly represented, Silva, Stan and some friends at the time showed more interest, and consequently the club was formed.
Meeting places
In the early days the club met in an old wooden hut behind the Castle Hotel.  (The wooden hut went years ago, to be followed several years later by the Castle.  The Aldi Supermaket now occupies the site).  The Club meeting place changed, moving round the corner to Simpsons in Southend Road, a favourite meeting place of so many of the towns organisations during the 70s and 80s.  The owner of Simpsons at that time was Harvey Hodgson, a longtime member of the Wickford Rotary Club.
During the late 1980s a change in the way the club met took place.  The original Charter had been for a lunchtime club but the club experimented with alternating evening and lunch meetings.  The experiment consolidated the membership numbers, which were dwindling, and resulted in the club becoming an all evening club.  It led also to a change of venue to where the club meets today, at The Chichester Hotel, Rawreth.  Although the club has had a turnover of many members, the number has remained fairly stable at around forty.
A TRULY LOCAL CLUB
Since its inception the Rotary Club has been at the centre of many of the town's activities, largely because many of the members are, or were, business owners around the town, doctors, bank managers, builders, solicitors, schoolteachers, the local bus service operator, an assortment of local shop keepers, chemists and the town's printer; it is what truly can be called a 'local' club.
While the Rotarians in Wickford have always contributed to the international initiatives undertaken by Rotary International, their hearts and sentiments have always been centred on Wickford and its community, providing local events and also raising funds for local causes.  The club has for some years organised the town's Firework Display in November, and of course helped Father Christmas to make his rounds in the streets of Wickford.  Since 1988 a monthly quiz has been held at The Chichester, regularly attended by about 140 people and raising in the order of £5000 per year.
One of the club's first Community projects was in September 1958, at the time of the Wickford flood.  There are some recollections, and even old photographs, of an amphibious landing craft being used to ferry people around. It was owned by some of the club's Founder Members.