1st Wickford Guides and Brownies in the 1940s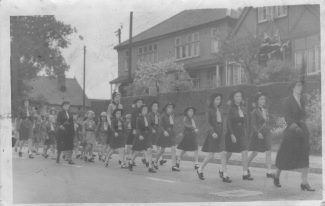 We used to meet in St. George's hall behind the present Barclays Bank. Our Brown Owl was Miss Young. We also had small groups of Brownies meeting in a large room behind the bakers shop to study for our different tests.
1st Wickford were part of the Rochford District Group and Brownie Revels were held at Rayleigh Methodist Church in Eastwood Road.
Later I became a guide,our Captain was Helen Webb who lived in Castledon Road. We had regular church parades at St Catherine's Church. After meeting at St Andrew's Hall we marched through the High Street up the two hills in Southend Road to the Church.
The Annual Remembrance Day service was held in the Carlton cinema in Wickford High Street (now the 99p shop), then we marched to the Nurse's Home in Southend Road, which was the War Memorial to lay our wreaths.
We regularly helped at St Catherine's Church Fete with the teas, later we helped with the washing-up in the old rectory kitchen. The main event of the afternoon for the guides was dancing around the Maypole or Country dancing. Wickford Carnival was another village event we took part in.
Our Captain Miss Webb was not licenced to take us camping so we joined up with the 1st Rochford Guides. Our camping skills were practised at Miss Webb's home in Castledon Road, erecting bell tents, building camp fires for cooking, etc. Our transport to and from camp was with Len Barker who carried us plus our equipment on his open back lorry. No health and safety then. I can remember visiting Lord Rayleigh's farm at Terling, Gosfield Park and Danbury Park where our Captain obtained her licence.
One test I can remember is walking and running a mile in ten minutes. This was achieved by leaving St Andrew's Hall, up to the telephone box at Belmont Avenue, memorising the telephone number and back to St Andrew's hall.
Miss Webb had another Guider to help her Pearl Haddon, who lived next door to the Police Station in Southend Road. We often met at her home to practice our different skills: Home Nursing, Childcare, Cooking, etc.
After the war ended we made a yearly visit to Guide Headquarters in Buckingham Palace Road. Following this we went to a London show: 'Where the Rainbow Ends', 'Jasper Maskelyne's Magic Show', 'The Stoll Theatre Ice Show' and 'Oklahoma'.
First Aid and Sick Nursing skills were taught by Miss Board from the Red Cross who lived in Swan Lane opposite Egbert Gardens.
One year we travelled to Hylands Park at Writtle where we took part in the March Past where the Salute was taken by Her Royal Highness Princess Margaret.