Policemen at Crays Hill
Recollections of Mrs P M Clark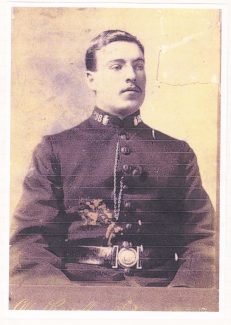 Isobel Johnson Collection
Mr Drain
"I remember him (Mr Drain) as our policeman in the twenties. He lived first in Vale Cottages, Oak Avenue, then at No 1 Council Houses. He was a very big, broad man and used to cycle round the parish.
The village was very law-abiding and very few examples of wrong doing occurred. He would call diligently at the houses to see if occupiers had their Dog Licences.
The Headmaster, Mr H C Bear, used to have whist drives when the school was first opened and I remember once during an interval, Mr Drain said that the Doctor had told him his 'insides' was black through drinking too much strong tea.
There was an occasion when three regular church-going households, including the Rectory, were broken into during Evening services, but nothing of great value was stolen. My mother said, "We shall be next" – she was the organist at the time. So we were, but not on a Sunday. She was teaching at the School and when we returned home one day as we walked up the path, she said "I didn't pull those curtains so far over I'm sure". We found out that 'our turn' had come, but as we expected a break-in, no money was left in obvious places. (We didn't have much anyway!) Also, we had no jewellery of any great value. The mattresses had been turned over and the CMS Missionary box had been broken, but as it had been emptied recently, it only contained about 1s 11 ¾d (10p) we estimated, but it was a very unpleasant feeling to find that one's home had been broken into. No suspects were found, but certain village boys were rather suspect.
Mr Drain had three sons, Victor, Leonard and Sidney, and a daughter Ida.
Subsequent policemen
I cannot recall anything outstanding about subsequent policemen, as we were not personally acquainted. I seem to recall a PC Pilberry who lived, I believe, in No 5 Council Houses and later a PC Hales, then PC Kemp who lived in the police houses on the A127 at Nevendon. He and his wife went to old-time dancing, and so did my neighbour, Mrs Lloyd, and I.  I can recall going to a police old-time dance at the Archer Hall in Billericay. I wore a pale pink voile dress with a floral design, a black velvet neckband with an ivory ornament and long black gloves. I did enjoy it. I taught Mr Kemp's daughter, Jacqueline, for a year, then she went to Clarks College in Southend.
Recalled by a Crays Hill resident  P M Clark