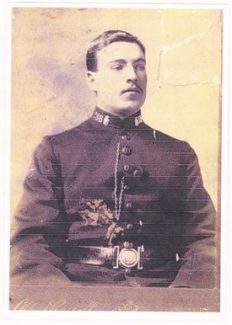 Isabell Johnson collection
I have just read the item about my grandfather, P.C Drain, who lived at Number 7, Council Houses, Crays Hill. He was born in Faulkbourne, 1st November 1878, and joined the force 11th November 1898, having been sworn in by Thomas Kemble J.P. and Fred Chandler J.P. at Chelmsford.
He was first stationed in Grays/West Thurrock and Orsett before moving on to Gt Bardfield, Gt Wakering, Ingrave before moving to Vale Cottages, Crays Hill. He and my Grandmother had ten children in all, my father (Leonard Drain) being one of them.  He was pensioned off at completion of service on the 31st July 1929 after 25 years and 89 days, according to his records.
He had one misconduct in 1914.  Having had his photo taken with some yeomanry he was fined 10 shillings, which was quite a lot of money in those days, especially with twelve mouths to feed. I can remember him from a child's perspective as quite a large man with a moustache. He told my sister and me many stories of his time in the force, about catching children apple scrumping, giving them a clip round the ear, taking them home to their parents – where they got another one for getting caught. He passed away, 4th November 1959, having spent his retirement still living in Crays Hill, at Number 7 Council Houses, on the bend on the right at the top of the hill, coming from Wickford before you reach the Shepherd and Dog.
Angela Randall (nee Drain)