Nevendon School
Memories of an earlier school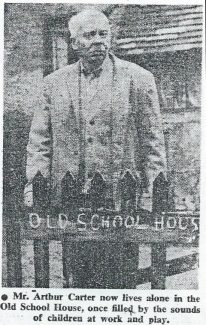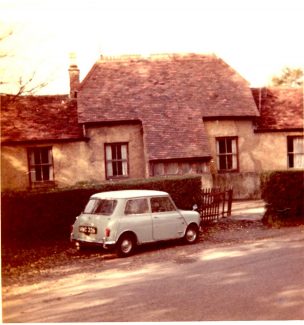 Basildon Heritage Collection
Nevendon School.
This old newspaper cutting has been saved but there is no date, so if possible please help to date it.
Stories about new schools with every modern aid must make older residents think wryly of their school days, when a hard wooden bench and strict discipline were "an education".
We have in mind those gay youngsters of more than 50 years back who used to arrive on a pony and trap to begin their lessons at the Old Church School House in Nevendon Road, built in 1886 and demolished in 1972.
About 40 smartly dressed children aged from five to fourteen used to cram into the little solitary classroom only 14 feet by 22 feet and 8 feet high.
One man who remembers those days is 75 year old Mr Arthur Carter, who now lives alone in the school house. Although he did not attend the school himself, Mr Carter clearly recalls the happy atmosphere of those early days. The school was a very isolated lonely spot, and the children used to get to it along a dark and narrow road. Conditions were very cramped and there were only a few benches and desks between the whole lot of them and only one teacher, Miss Taylor, but they were a very happy bunch of children and I often used to see them going along in the pony and trap.
The only other buildings anywhere near the school were a few thatched cottages, the church and an old pub. The school closed after the first world war because the number of children dropped to just a handful. "The reason for this was that most of them belonged to farming families who moved to other areas to find work" said Mr Carter. Mr Carter whose wife died last year, now rents the house from Basildon Development Corporation.
To passers by, it is just another house in a quiet side road. There is only one clue to its history, still painted on the front gate are the words "The Old School House"
Most of the children who attended the school just before it closed down must be in their 60s and 70s . Do any of them still live in the district?