Wickford Station Masters (1888-1952)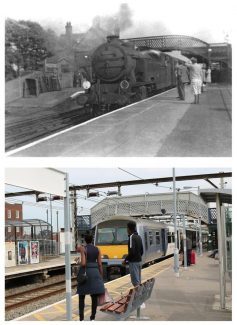 The first station master at Wickford was Thomas Lucking who lived at the station house with his wife Louisa Elizabeth (White) and children. He was born at Magdalen Laver, east of Harlow, and was the son (and grandson) of a farmer. Thomas retired from his position of station master in 1896 when he moved to Blackmore, taking over the Leather Bottle Inn. His wife's father was also a licensed victualler.
Lucking was succeeded by Frederick John Stowe who began his railway occupation in 1880 as a clerk at Braintree. Stowe lived in the High Street at Wickford with his wife Caroline Emily (Chalk) and children. In 1902 his eldest daughter was knocked down by a horse and trap. She suffered a fractured thigh and was cared for by Wickford's resident doctor, John Marshall (1848-1919). In 1904 Stowe had an accident himself. He was standing by the goods yard on the north west side of the station, next to the wagon of Mr Holliday from West Hanningfield. The horses attached to the wagon became startled at the sound of a train and Stowe was knocked to the ground with one of the wheels of the wagon running over his chest. Fortunately, under the care of Dr Marshall, Stowe recovered and he was later appointed station master at the Suffolk town of Mellis, which is situated close to the Norfolk town of Diss.
Wickford's next station master was Henry Frederick Barker who was appointed in 1905. He was previously at the Norfolk village of Burnham Market which is no longer served by a railway. In 1907 Barker was transferred to Broxbourne in Hertfordshire. His replacement was Thomas Frederick Meehan who began his career in Norfolk, at Beccles. He was at Haughley in the same county before coming to Wickford, and at the end of 1910 he was appointed to Fakenham where he stayed for nine months. Meehan then returned to Essex when he was appointed station master at Shenfield. After eight years at Shenfield he was promoted to Peterborough, which was regarded as one of the most important railway stations on the Great Eastern Railway network, second only to Liverpool Street.
Meehan was to be replaced at Wickford by Henry Ernest Smith who, at the time, was the station master at Ongar. However, for some reason, Smith does not appear to have come to Wickford for he took up the station master's position at Loughton. The Wickford position was taken up by James Bertie Masters. Shortly after his arrival the station master's house was struck by lightning (July 1911), breaking the chimney and scattering roof tiles on to the platform. James' son, Frank Sydney Masters, accidentally drowned at Newham Baths, Bedford, in 1912, just before his 18th birthday. Frank was interred at Runwell where he was a member of the church choir. In 1918 James Masters was appointed to Seven Sisters and Stamford Hill.
He was replaced by Herbert George Wooltorton, who was a Freemason, and later served as station master at Bury St Edmunds. There is a picture of him in the Bury Free Press (July 1939) taken just before his retirement. It is not clear who was Wooltorton's immediate replacement at Wickford. Walter Allen Scott, who worked as a booking clerk at age 15 in his birth town of Wortham, Suffolk, was the station master at Wickford in 1929 and another Walter, Walter John Ablitt, the son of John Ablitt, a station master, was the station master at Wickford in 1937. Ablitt was removed from Wickford and appointed station master at Clacton in 1939, by which time Scott had retired to Bury St Edmunds. Ablitt, at the time of his death, was living in Shoeburyness.
When Ablitt left Wickford he was replaced by Timothy Charles Foster of Hatfield Peveral. Foster had an interesting career. He was a corporal in the railway division of the 5th Suffolk Regiment, Royal Engineers, serving in the Middle East and is said to have taken the first train into Jerusalem, a station of which he was later station master. He was also a station master at several places in Palestine. Although he was appointed to Wickford he appears on the 1939 Register at the station master's house in Billericay. His stay was a short one. Foster was promoted to Harwich and Dovercourt in 1940 and he was replaced at Wickford by Edward Petley. Edward was the son of Samuel Read Petley of Epping, but originally from Latchingdon. Samuel was a fireman on one of the royal trains which pulled the carriages in which Queen Victoria was a passenger. He was later the driver of locomotives on the Great Western Railway which included the 4-6-0 "Kings" class trains King Edward VII and King George V. Sometime after leaving Wickford, Edward Petley was appointed station master at Hackney Downs. Sadly he was killed at Hackney Downs in 1952, age 63, when he was walking from the signal box to the station.
For more photographs relating to Wickford Railway Station click here.