IMPORTANT NOTES:  Please note that the following detailed procedure is specifically intended for registered  users of our old site who are required to setup a new password, or for those who have lost their password.
You should go down these instructions and then go to the site and try to reproduce them. It may help if you open up two tabs on your browser (one for instructions and one for actions).
As a general user of the new site who is not logged in (your situation with broken password) this is what you will see at the top of the new site Home page.

Click the "log in" link.
The following  screen appears. Click the link "Lost your password?" and do nothing else (this link is down at the bottom of the screen and please note that there are three links very close together). No need to fill in any boxes at this stage.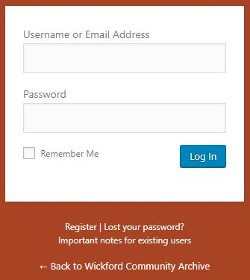 This screen should then come up. Note that this is also the place you start from if you have followed the link  "Important notes for existing users" and then clicked on the "follow this link" on that page.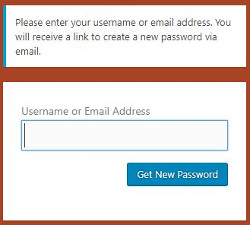 Now enter your email address or username. If you use an email address you must use one that is registered on the site and is linked to your username.  Also as you will be getting emails back from the site during this procedure you will need to be able to receive and look at emails while you are following the procedure.
Ready to proceed?  If so then go ahead and type your email address or username into the form. Here we have used an email address. When finished click "Get New Password".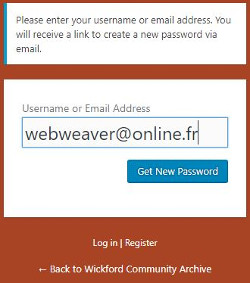 The next screen appears with username prefilled. Just click "Log in". Do not bother doing anything with the dotted password field or the "remember me". You will have to deal with these later in the process.  And obviously do not touch the username field as this has come directly from the site. So just click "Log in".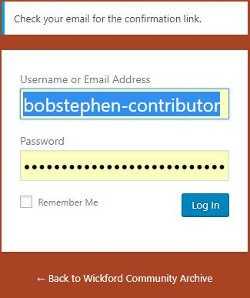 An email should arrive very shortly in your email inbox. You should now go there and look for it and then click on the link "click here" in the mid body of the email.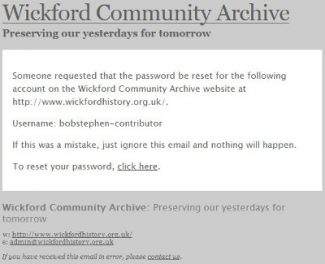 This window will now appear in front of you.  Start to fill in a new password.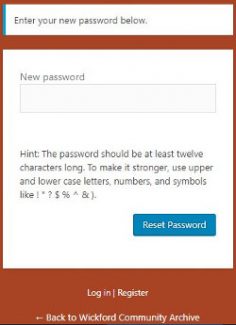 Have a piece of paper in front of you. Then start to type your new password into the box. Please make a note of what you are typing as you go along. The password will be given grades. One thing not to do is to use a variation or abbreviation of your user name. The system is clever and will downgrade your attempt. Also don't get bizarre as you could forget or mistype. Just keep going like this:
You will start as Weak.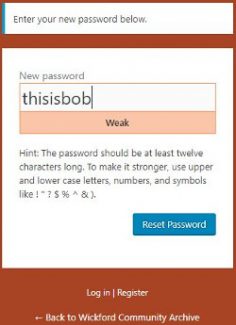 Weak then goes to Medium.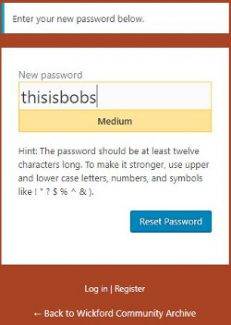 and eventually Medium becomes Strong.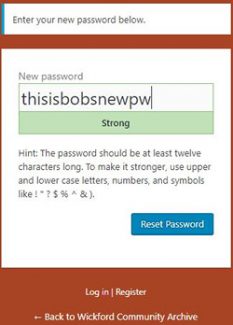 This password is quite long and strong enough. No need to go any further. You need to remember you will have to type it back into another box later in the re-registration process so, if you have not already done so, please write it down exactly as it is shown before you get any further.
Now click "Reset Password". The following response will shortly come back.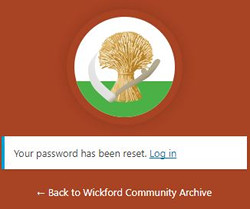 OK so far? You are now re-registered on the site and now have to Log in (yes there are hoops within hoops). So now just go ahead and click the "Log in" link on the above form.
The registration form down below next appears – you are being returned to the standard "Log in" on the Home Page.
Have you still got your new password on a piece of paper or somewhere safe in your head? If so you should now fill in your email address or user name into the form. Just for a change I put my user name here but I could have put  my email address "webweaver@online.fr" instead.  As long as the user name matches the email address on the site all will be OK.  Note that this time you MUST fill in the password field with your new password. What is currently there is just rubbish – its not your new one. Clear out the dots entirely.  Then type in your new password. So … user name or email address followed by your new password which was typed into a clear window.
Note that if you want you can also tick the box "Remember Me". If you do this then your computer will remember your details and you will not have to type them in each time you login.  Of course this only applies to the actual computer you are typing this information into.
Now if all looks OK click "Log in". You will not have confirmation here of your new password and it is not visible (except one character at a time as you are typing) so please take care typing it in.
Then click 'Log in'.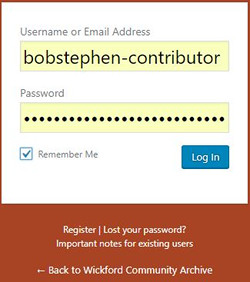 Oops … must have mucked up on something, maybe I mistyped. Just after I clicked "Log in" the screen gave a wobble after a few seconds. The system then told me I had made an error. Apparently I  will be given 3 attempts. If I fail after 3 attempts  I'll be locked out for 20 minutes and only then can I start again. So lets try typing more carefully – first clear out password window then recommence typing in the password.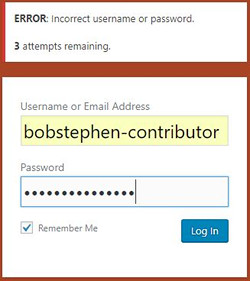 Must have been OK this time with the correct password. For me this was "thisisbobsnewpw" (if I remember correctly). We are now into the site!  And this is what you see. But you are not on the Home page yet but in the tools area for contributors. This is an area called "Dashboard".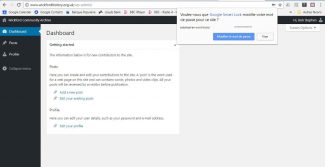 On my successful Login attempt I got an overlay panel on top of the tools area from Google Smart Lock.

Click this "Yes" if you have ticked remembering the password. The panel disappears.
On the top right of the contributor screen you see this with your friendly site name.
And if you hover over your name you will get the following list. You can edit your profile here or log out.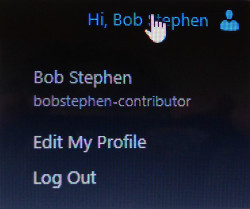 Also on the top left of the screen you have site specific wording. Hover over "Wickford Community Archive" and a small panel will drop down.

Click on "Vist Site" and you are now on the Home Page. This is the standard way to leave "Dashboard".

Congratulations. Welcome to the site as a registered Contributor. You can now use "Dashboard" for your contributions or you can equally use "Contribute" which is designed to be simpler and quicker.
Note that "Dashboard" will only become available when you successfully log in.  "Contribute" will always be available.