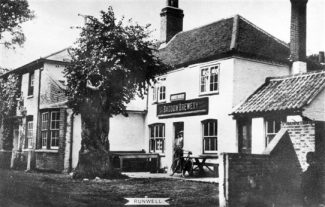 From the John Neville Collection
The Pot Inn is clearly marked on the 1777 Chapman and Andre map, together with the Church, Church End Farm and Berne Hall. There are also documents in the Essex Record Office giving details of:
       The Pot Inn 1632–1806
       The Quart Pot 1866-1896.
According  to the 1845 Tithe map the Quart Pot public house was  owned by Robert Raven who paid 4s and 6d in old money tithes to the vicar for the Inn and yard together with a small field.
In 1924 the Salvation Army used a private room at the back for their meetings. They would leave their newspaper 'The War Cry' in the hollow tree, which must have been a couple of hundred years old. This tree gave countless children hours of pleasure playing in and around it. It used to have coloured lights woven into the branches.
As a child before the war I can remember going to the Quart Pot whenever Aunts and Uncles came to stay; we weren't allowed into the pub but amused ourselves outside, after being given a large Arrowroot biscuit and a glass of lemonade.
The Quart Pot always had a Darts team and they were very sorry to hear one of the Peddar brothers lost his life when HMS HOOD was sunk at the beginning of World War Two.           
Darts were always played in the Public Bar and the tables and trestles were regularly used by the locals who played Crib and Dominoes.  There was also a table with Skittles and a ball on a chain to knock them down with. Fred Cawthorn was the barman and Mary kept a fresh supply of clean glasses at the ready – there were no dishwashers then!  Fred's brother was a keen cricket player and used to play for the Wickford Cricket Club.
There were two other bars, the Saloon with its private garden and a small Snug bar which also served as the Off Licence. Arthur Guiver was the Landlord for many years and if you bought him a drink he had a miniature pint glass which cost 6d in old money to refill.
One Christmas it was very cold and fires in the bar had been poor so one of the lads delivered a sack of coke.  That evening Arthur had rigged a rope around the fireplace with a notice saying 'Men at work'!  It was all good fun.
The Quart Pot is opposite the rectory fields where the August Bank holiday Horse Show and Gymkhana were held together with a Fete.  The Wickford Carnival procession ended up here so the pub's customers had a good view before the procession turned onto the field. This field is now used by Runwell Residents as allotments.