Jersey Villas in Jersey Gardens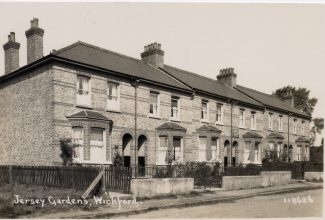 I currently live at one of these properties.  They used to be called Jersey Villas.
I have the original deeds and all the ones up to my ownership.
Lovely house, large tall ceilings, ample space and a long 100ft garden.
This photo still has the walls and iron railings in the front garden, so this picture has to be pre war – but I do not know when.  I believe that these buildings were built between 1903 and 1913.
I would be happy to find out more information if there is any.