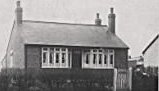 This is a photograph of 'Glenmore', 119 London Road, which I believe was built by my grandfather, Edward Albert Pimm, and others, in the early 1920s, for his son, Albert William Pimm, and his wife and children to live in. Albert was injured in WW1 and was trained to become a basket maker and poultry farmer, I think by St. Dunstan's, as he became blind as a result of his injuries. His son was killed in action at the end of WW2; his name, Stanley, is on the War Memorial, which was unveiled in November 2011. Albert also owned 'Rosebriar', 117 London Road, in which lived my grandmother, Elizabeth Pimm, and her elder daughter, Elizabeth.
These properties were adjacent to Woodford's garage. I believe both properties have now been demolished.
If you could give me any supplementary information about the exact dates of the building of these properties I would be very grateful.