Wickford Plotlands
From the collection of Mrs Iris Logan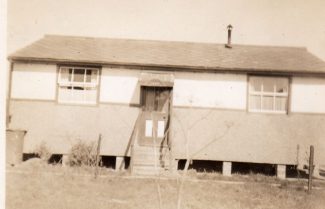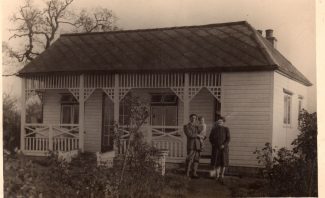 This photo of "Thark", is a property my parents rented in 1940, having had to leave London over the bombing. The property was then owned by a Mr Northcott and must have been installed in 1920/30. It is in Sugden Avenue, situated on the right hand side near the river. It needed to be built on stilts as the area flooded at times during winter, wet months.
This picture is of "St Annes", a property built and owned by Mr William and Mrs Sarrah (Anne) Roberts. It was situated in Southbourne Grove, on the right hand side. My uncle, Mr Roberts, bought several plots of land (about £10.00 a  plot) to bring his Scout troop camping. Eventually he decided to build this bungalow in the early 193s. During the war years, the authorities allowed people to live in these properties other than at weekends and holidays. The bungalow was raised on concrete blocks and was lined with asbestos (fireproofing and insulation).
As a result of the landing of a V.2. rocket at the corner of Sugden Avenue, properties were allowed to be rebuilt of brick, and you will find that "St Annes" is now a rather nice property.